Showcase result
Burton on Trent
Town or City: Burton on Trent
County: Staffordshire
Country: England
WMT Reference Number: WM101
Value of grant: £200.00
Type of memorial: Freestanding
Type of work: Restoration
Grant scheme: Small Grants Scheme
Year: 2000

UKNIWM reference number: 1948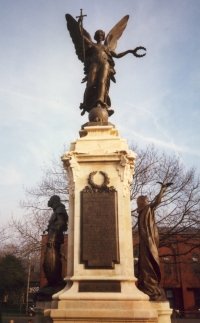 Burton on Trent war memorial sculpture stands on Lichfield Street in a garden. Atop the memorial an angel figure stands with a laurel wreath in one hand and a sword in the other. Below her the ornate stone pillar carries two bronze plaques upon which inscriptions and names are carved. Alongside the plaques are two further sculptured figures, one of St George and the other of Peace or Victory which holds a dove in its hand.
In 2000 conservation work on the memorial received a grant of £200 from War Memorials Trust. This included the removal of the angel to allow conservation to be undertaken off site where it was treated in a specially erected cradle to enable conservators to access all areas of the statue.
The memorial was designed by Henry Charles Fehr. It was unveiled on 2nd August 1922 by Earl Dartmouth.
The inscriptions on the memorial read: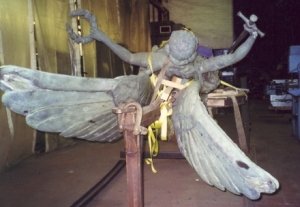 To Burtons heroes
honour
to the immortal dead
that great white
company
of shining souls
who gave their youth
that the world might
grow old in peace
1914 1919

To the glorious
a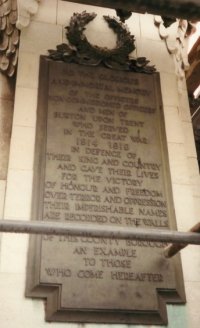 nd immortal memory
of the officers
non commissioned officers
and men of
Burton on Trent
who served
in the Great War
1914 1919
in defence of
their King and country
and gave their lives
for the victory
of honour and freedom
over terror and oppression
their imperishable names
are recorded on the walls of the town hall
of this county borough
an example
to those
who came hereafter

Remembering also
those who died
in the World War
1939 1945
Further information
War Memorials Trust reference WM101
UK National Inventory of War Memorials: 1948
If you have a concern about this memorial please contact the Trust on conservation@warmemorials.org