Showcase result
Sayers Croft
Town or City: Ewhurst
County: Surrey
Country: England
WMT Reference Number: WM105
Value of grant: £250.00
Type of memorial: Non-Freestanding
Type of work: Restoration
Grant scheme: Small Grants Scheme
Year: 2000

UKNIWM reference number: 23559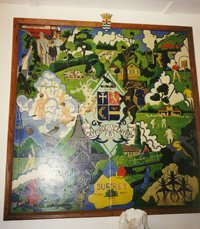 Sayers Croft Field Centre, Ewhurst has two war memorial murals. They were designed and painted by an evacuee art group in 1941-1942. The murals depict the way the air and land war affected life at the camp during the course of the year - all the murals place the school crest at their centre.
The murals were painted directly onto the boardwork of the dining room and by 2000 had begun to deteriorate. The Sayers Croft Evacuee Group undertook a campaign to raise funds for restoration, an appeal featured in War Memorials Trust Newsletter Number 7 in Autumn 2000.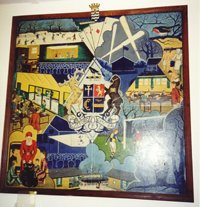 In 2000 the Small Grants Scheme contributed £250 towards this project, followed by another £250 in 2002 from War Memorials Trust as a Special Project.
Sayers Croft Field Centre in Surrey was originally a camp school. During World War II it became a house for school boys evacuated from Catford and Lewisham. Following the end of the War it returned to the role it continues to maintain today, that of a functioning camp school.
Further information
War Memorials Trust reference WM105
UK National Inventory of War Memorials: 23559
If you have a concern about this memorial please contact the Trust on conservation@warmemorials.org