Showcase result
Knowle Hospital
Town or City: Knowle
County: Hampshire
Country: England
WMT Reference Number: WM2560
Value of grant: £100.00
Type of memorial: Freestanding
Type of work: Relocation
Grant scheme: Small Grants Scheme
Year: 1999

UKNIWM reference number: 000000
Knowle hospital war memorial is a pink Peterhead granite column weighing 1.25 tons which is listed. It was original set in the grounds of the Hospital but redevelopment threatened the memorial and so it was moved to the grounds of St Nicholas, the Parish Church in Wickham, the Parish in which Knowle sits.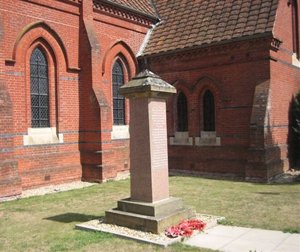 Following the closure of the hospital in 1995 it became necessary to move the monument as the site was being re-developed for residential housing. War Memorials Trust contribute £132 to the inital costs incurred in the moving of the memorial to the churchyard of St Nicholas. A further £100 was given due to an escalation of costs which the Trust was able to assist with in 1999 under the terms of its scheme at that time.
The memorial was originally erected at Knowle Hospital in about 1920 to honour 16 staff and estate residents who fell during World War I. Two further names were added after the Second World War.
The inscription reads:
Erected
to the memory of
the members of the
staff & those
resident on the estate
who gave their lives
for their country
in the Great War
1914 - 1919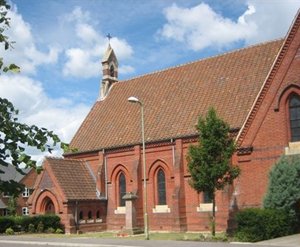 J. Andrews Gunner R.C.A.
H. Bedford Gunner R.M.A.
W.F. Crumplin Pte. Hants Regt.
E.W.C. Day Pte. R.M.L.I.
J. Dobson Sergt. Hants Regt.
G.C. Edney Pte. Inniskilling Fusiliers
W.A. Molineux Pte. K.R.R.C.
J. New Sergt. Hants Regt
E.E. Pharoah Gunner R.C.A.
C.W. Waring Pte. Ox & Bucks L.I.
A.C. Webb Pte. Sussex Regt.
G.R. Winsor Pte., Dorset Regt
T.W. Britton Pte. Dragoon Guards
and
to the memory of
those who died
in the
Second World War
1939 - 1945.
R.W. Clarke Cpl. R.E.
H.W.C. Page Ldg. Sto. R.N.
In 2010, the Trust asked a Regional Volunteer to visit the memorial to take photographs for the grants showcase. At this time it was discovered that the memorial has been moved back to the site of the Knowle Hospital which is now a residential housing estate. The memorial has been sited outside what was the Knowle Hospital Chapel and which is now the Knowle village hall. The photographs above, therefore, show the memorial in its current location outside the village hall.
Further information
War Memorials Trust reference WM2560
UK National Inventory of War Memorials:
Formerly OWM58
If you have a concern about this memorial please contact the Trust on conservation@warmemorials.org