Showcase result
Harrington
Town or City: Harrington
County: Cumbria
Country: England
WMT Reference Number: WM2563
Value of grant: £200.00
Type of memorial: Freestanding
Type of work: Relocation
Grant scheme: Small Grants Scheme
Year: 1999

UKNIWM reference number: 4038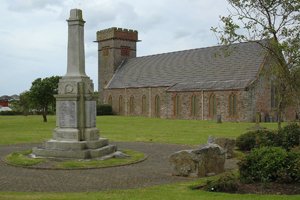 Harrington war memorial pillar originally stood in the Municipal cemetery but was moved in 2000. The new site is next to St Mary's Church. The pillar is made of Aberdeen White Granite.
Local community representatives sought to move the memorial because the site upon which it had been erected in 1925 was suffering from erosion. In addition in the years since it was erected the area around the memorial had filled with graves and headstones which made gathering around the memorial for Remembrance awkward. These location problems also made access difficult for the elderly, disabled or young children.
After a long campaign the memorial was moved to its new site. During the move a time capsule was placed in the memorial. War Memorials Trust contributed £200.00 to the cost of re-siting the memorial.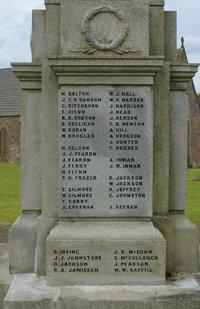 The inscription on the memorial reads:
Erected in grateful memory
of the men of this Parish
who sacrificed their lives
in the Great War
1914 - 1918
War 1939 - 1945
Erected 1925 Re-sited here 2001
Re-dedicated by
The Bishop of Carlisle
The Right Reverend Graham Dow
12th June 2001.
Further information
War Memorials Trust reference WM2563
UK National Inventory of War Memorials: 4038
Formerly OWM54
If you have a concern about this memorial please contact the Trust on conservation@warmemorials.org