Showcase result
Tivetshall St Mary
Town or City: Tivetshall St Mary
County: Norfolk
Country: England
WMT Reference Number: WM265
Value of grant: £100.00
Type of memorial: Freestanding
Type of work: Conservation and repair
Grant scheme: Small Grants Scheme
Year: 2001

UKNIWM reference number: 20162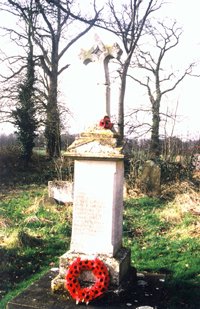 The World War I memorial in the village of Tivetshall St Mary in south Norfolk is a Portland limestone cross fleury on a moulded plinth on a pillar, standing on a three-stepped base. There is an inscription on the front face of the pillar, and above this on the moulded plinth is a representation of crossed flags. The memorial stands in the churchyard of the ruined church of St Mary's and as the church is no longer in use (the tower collapsed into the church in the late 1940s) the men are also commemorated on a plaque in the sister church of St Margaret's.
The shaft of the cross had broken at some point and although there had been an attempt at repair, and the parish council decided to have it repaired professionally for the millennium. Therefore in June 2001 War Memorials Trust gave a grant of £100 towards work to mend the memorial and to re-cut the names on the plinth.
The inscription on the memorial reads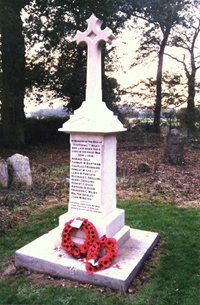 In memory of the men of
Tivetshall St. Mary
who laid down their
lives in the Great War
1914 – 1918

Horace Self
Thomas W. Bartram
Charles F. Hubbard
Ernest W. Coe L. Cpl.
Lewis R. Tungate
Reginald G. Snelling
Henry Snelling
Robert G. Dyer
Arthur D. Dyer
Frederick C. Wilby
Walter Shibley
John W. Bates

Greater love hath no man
than this that a man lay
down his life for his friends.
After the work was completed a rededication service was held on Sunday 11th November 2001 led by the Rural Dean and by a lay reader who was a naval veteran of the Second World War.
Further information
War Memorials Trust reference WM265
UK National Inventory of War Memorials: 20162
If you have a concern about this memorial please contact the Trust on conservation@warmemorials.org