Showcase result
Speldhurst
Town or City: Speldhurst
County: Kent
Country: England
WMT Reference Number: WM435
Value of grant: £100.00
Type of memorial: Freestanding
Type of work: Conservation and repair
Grant scheme: Small Grants Scheme
Year: 2002

UKNIWM reference number: 41317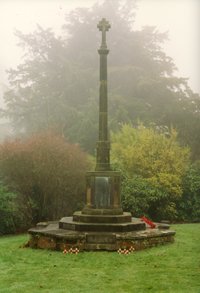 Speldhurst war memorial in Kent is found in the churchyard of St. Mary the Virgin. The grade II listed memorial takes the form of a cross on a slim tapering obelisk, which is on an octagonal plinth and an octagonal three-stepped base. The cross and obelisk are made of sandstone from the quarry in East Hoathley, Sussex. The inscriptions are on bronze plaques attached to four sides of the plinth and the two upper steps.
The memorial has received multiple grants and the summary details of this record relate to the most recent grant.
The tall obelisk was held together at the joints by lengths of copper tube filled with cement grout. After 80 years these had become malleable and the obelisk moved perceptibly in the wind, so in June 2001 War Memorials Trust gave £250 towards payment for work to remove the copper dowelling and replace it with three stainless steel dowels. Work was also done to re-point joints with resin bonding.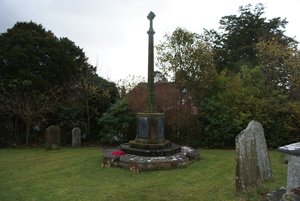 In November 2002 a grant of £100 was made to repair and secure two of the bronze plaques inscribed with names of the fallen.
The inscription around the top of the plinth reads
Holy Father keep through Thine own name those Thou hast given me may be with me
And on the opposite face of the plinth is the inscription
In honoured and
grateful memory
of those whose
names are here
recorded who
made the great
sacrifice in the
world war
1914 – 1919
Tranquil you lie
your nightly virtue proved
your memory hallowed
in the land you loved
The other two faces of the plinth are inscribed with the names of the fallen from World War I.
On the top step is the inscription
1939 - 1945
and on the step below this the names of the fallen from World War II.
The memorial was erected in August 1919 with funds from public subscriptions. It was unveiled in May 1920 by friends and relatives of the fallen, and was dedicated by the Bishop of Rochester. It was memorial was designed by Charles Marriott Oldrid Scott. (John Oldrid Scott had been the architect that designed the "new" parish church in Speldhurst when it was rebuilt in 1870/1. As well as designing the memorial John's son Charles went on to design other items for the interior of the church. John was the son of George Gilbert Scott who designed St. Pancras station and Charles his grandson).
Further information
War Memorials Trust reference WM435
UK National Inventory of War Memorials: 41317
Grade II listed building number 440466
If you have a concern about this memorial please contact the Trust on conservation@warmemorials.org