Showcase result
Warbstow
Town or City: Warbstow
County: Cornwall
Country: England
WMT Reference Number: WM76
Value of grant: £100.00
Type of memorial: Freestanding
Type of work: Conservation and repair
Grant scheme: Small Grants Scheme
Year: 2001

UKNIWM reference number: 40392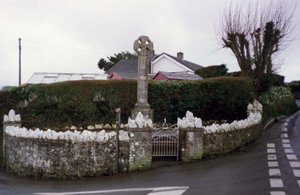 Warbstow war memorial cross stands at the junction of Hallworthy to Cannorthy Water and Downinney Trenegloos Road in the village. The Cornish wheeled cross stands on a square column supported by an octagonal base. Inscriptions and names are around the plinth and on the column and remember both those who died and those who served.
In 2001 War Memorials Trust gave a grant of £100 towards re-pointing of the memorial and the surrounding wall.
The memorial was unveiled on 14th August 1921 by Rev Owen Thomas, Vicar of Tresmeer. Rev Tresmeer had been an officer in the army during the war and alongside Rev M. Hoare he gave a short address at the service. Wreaths were laid and the Last Post played by a Mr Oke from the neighbouring village of Launceston.
The memorial was erected on land donated by Mrs Orchard. The organising committee was chaired by Vicar Rev Mugford and supported by the local community including local farmers who transported the materials free of charge.
The inscription for World War 1 reads
In honour of the men from the parishes of Warbstow and Treneglos who served in the Great War 1914-1918
The following men
gave their lives to
maintain the sacred
ideals of Christian
civilization:-
Home Service
Foreign Service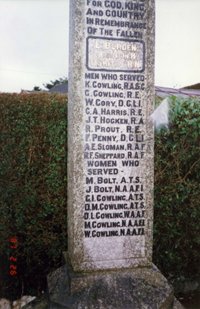 The inscription for World War II reads
For God, King
and Country
in remembrance
of the Fallen
Men who served
Women who served
Further information
War Memorials Trust reference WM76
UK National Inventory of War Memorials: 40392
If you have a concern about this memorial please contact the Trust on conservation@warmemorials.org