Showcase result
Shropham
Town or City: Attleborough
County: Norfolk
Country: England
WMT Reference Number: WM2075
Value of grant: £725.00
Type of memorial: Non-Freestanding
Type of work:
Grant scheme: Small Grants Scheme
Year: 2007

UKNIWM reference number: 00000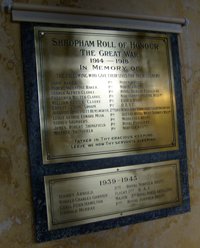 The war memorial plaques in St Peter and St Paul church in Shropham are the roll of honour for the village. The two plaques record the fallen of the two World Wars.
The plaques are lacquered brass with the wording incised with a black wax infill. They had suffered considerable staining from bat urine over the years which caused damage to the lacquer surface and corrosion. Conservation work was supported by War Memorials Trust with a grant of £725 towards cleaning and re-lacquering.
The First World War memorial reads:
Shropham Roll of Honour
The Great War
1914 - 1918
In memory of
The following who gave their lives for their country
John Baker, Pte Norfolk Regmt
Robert Valentine Baker, Pte Norfolk Regmt
George Alfred Clarke, Pte Royal Dublin Fusiliers
Frederick Walter Clarke, Pte Northamtonshire Regmt
William Bertie Clarke, Pte Essex Regmt
Ernest John Groom, Pte R.A.S.C.
Augustus Hethersett Hemsworth, 2nd Lieut Kings Own Yorkshire Light Infantry
Leslie George Edward Musk, Pte Queen's Royal West Surrey Regmt
Sidney Saunders, Pte Middlesex Regmt
James Robert Shingfield Pte Royal Fusiliers
Wilfred Shingfield Pte Norfolk Regmt
Father in thy gracious keeping, leave we now thy servants sleeping.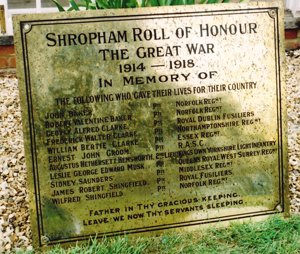 The Second World War plaque reads
1939 – 1945
Harry Arnold, Pte Royal Norfolk Regmt
Ronald Charles Garnier, Flight Sgt R.A.F.
Cyril Penn Hamilton Major 3rd Royal Horse Artillery
Harold Murray. Pte Royal Suffolk Regmt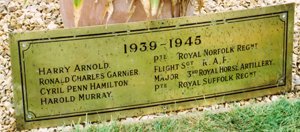 Further information
War Memorials Trust reference WM2075
UK National Inventory of War Memorials: Unknown
If you have a concern about this memorial please contact the Trust on conservation@warmemorials.org