Showcase result
Bradshaw Cricket, Tennis & Bowling Club
Town or City: Bradshaw
County: Lancashire
Country: England
WMT Reference Number: WM873
Value of grant: £250.00
Type of memorial: Non-Freestanding
Type of work: Works to hard landscape
Grant scheme: Small Grants Scheme
Year: 2002

UKNIWM reference number: 43703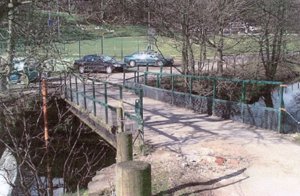 Bradshaw War Memorial Cricket, Tennis and Bowling Club is a war memorial. The Club stands on a horse-shoe of land surrounded by Bradshaw Brook, below Turton Road. On the club grounds are two further war memorials – a Grade II listed stone cenotaph to World War I and a cross to remember the fallen of World War II.
The access bridge to the club site was damaged. War Memorials Trust contributed £250 to a project in excess of £5,000 to replace the bridge. This hard landscaping work ensured the club continues to operate and fulfil its function as both a sports club and a war memorial.
The club was founded in 1884 but played on land they did not own. In 1922 Lt. Col. Hardcastle donated the ground used by the cricket club to the club. Trustees were appointed to ensure that the land would be used as a cricket club in perpetuity. On 29th April that year the grounds were dedicated as a war memorial to those members of the club who had died in World War I. The 23 names are recorded on a stone cenotaph on the boundary (UKNIWM 43703).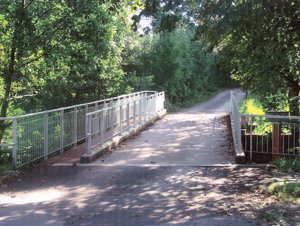 On that 29th April 1922 Kearsley cricket club were the visitors to Bradshaw. Wreaths were laid at the cenotaph by the two team captains; Bradshaw were represented by H. D. 'Donny' Davies who as a journalist for the Manchester Guardian died in the Munich air crash of 1956 when covering Manchester United. Every year since 1922, when the two teams play their annual fixture, on whatever day it falls, the ceremony is repeated and the two team captains lay wreaths following a two minute silence shared by all at the ground.
Following the end of the Second World War the club again looked to honour its Fallen. An Appeal Fund was started with a target of £2,000 but by spring 1946 the total raised was around £540. Captain A. Seymour Haore sold, at the nominal fee of £15, land behind the Pavilion to the Club and other surrounding land was acquired. Various proposals for expanding the ground and developing terracing and seating were discussed by a Memorial Committee but on 21st July 1951 at the Bradshaw vs Heaton game the extension of the ground was dedicated and a wreath laid at a memorial cross on the terracing while the names of the fallen were read aloud.
The inscription on the Cenotaph reads:
This stone of remembrance is erected by
Lt. Col. H. D. Hardcastle to
commemorate the great sacrifice of 23 members of
Bradshaw cricket club who gave their lives for their
country in the Great War, and this cricket ground is
forever dedicated to heroic memory
their name liveth
for evermore.

1914 – 1919
Gave their lives for us in the Great War
Further information
War Memorials Trust reference WM873
UK National Inventory of War Memorials: 43703
Lancashire Life Magazine July 1982
If you have a concern about this memorial please contact the Trust on conservation@warmemorials.org