Showcase result
Kemsing
Town or City: Kemsing
County: Kent
Country: England
WMT Reference Number: WM985
Value of grant: £250.00
Type of memorial: Freestanding
Type of work: Works to hard landscape
Grant scheme: Small Grants Scheme
Year: 2002

UKNIWM reference number: 54530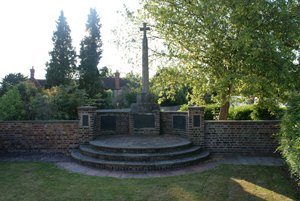 The war memorial in the Kentish village of Kemsing, in the North Downs, is a stone cross on a tall, slim pillar on a double-stepped plinth. The memorial stands on a semi-circular brick wall, which extends in two flanks parallel to the front of the memorial. The semi-circular wall encloses a paved area in front of the memorial, and three steps lead down from this. There are metal plaques on the brick wall under the memorial, on either side of the memorial on the curved wall, and on the pillars at the junction between the curved wall and the straight flanking walls. The memorial stands near St. Edith's well in the centre of the village.
In November 2002 War Memorials Trust made a grant of £250 towards hard landscaping around the memorial, namely re-bedding and re-pointing three slabs on the steps, re-laying the path, re-bedding the coping on the wall to the right hand side of the cross and replacing the coping on the wall either side of the path with a double layer of peg tiles to make a creasing course.
The inscription on the metal plaque under the cross reads
In memory of the
men and women of Kemsing
who gave their lives in the
Great Wars
1914 – 1918
1939 – 1945
that we might live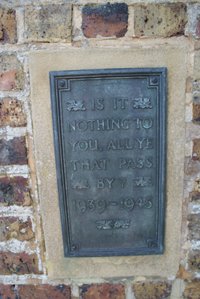 After the Great War Sir Mark Collet bought the land for the memorial and commissioned Geoffrey Pinkerton to design it. Much voluntary work such as levelling the ground, mixing cement and laying bricks was done by the men of the village. The memorial was unveiled in 1921 by Lord Sackville, owner of Knowle in nearby Sevenoaks, at a dedication service conducted by the Archdeacon of Tonbridge, assisted by the vicar and the leader of the local Free Church. The service was followed by another for the dedication of the memorial in the church. Forty ex-servicemen attended the services.
In 1948 twenty one names of the fallen of World War II were added to the twenty existing names on the memorial. They were dedicated by the Dean of Rochester on 31st July 1949.
Further information
War Memorials Trust reference WM985
UK National Inventory of War Memorials: 54530
If you have a concern about this memorial please contact the Trust on conservation@warmemorials.org