Showcase result
Barford
Town or City: Warwick
County: Warwickshire
Country: England
WMT Reference Number: WM1406
Value of grant: £500.00
Type of memorial: Freestanding
Type of work:
Grant scheme: Small Grants Scheme
Year: 2003

UKNIWM reference number: 51915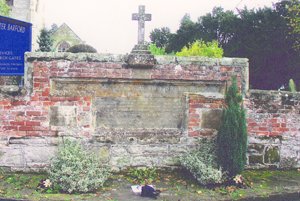 The war memorial in the central Warwickshire village of Barford is set into the wall surrounding the churchyard of St Peter's church, at the corner of Church Street and Church Lane. The wall itself is brick and Warwickshire sandstone with stone coping. Five stone plaques are set into the wall; the three central blue Hornton stone ones commemorate World War I and two smaller ones either side of this, World War II. This section of the wall is heightened and a stone cross on a triple plinth rises from the top of the wall above the plaques.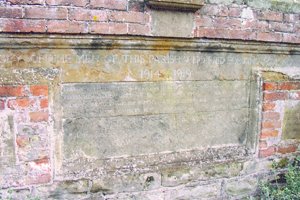 By 2003 the old bricks had deteriorated beyond repair and the stone plaques were becoming illegible due to spalling. In May 2003 War Memorials Trust made a grant of £500 towards work to rebuild the wall, to replace the World War I panels and to clean the ones commemorating World War II. A number of inaccuracies of military ranks and minor punctuation mistakes were corrected on the new plaques, which it was decided should be made of more durable Blue Hornton stone, rather than just Hornton stone as the previous ones had been.
The dedication on the World War I plaque reads
In memory of the men of this parish who died for king and country
1914 – 1919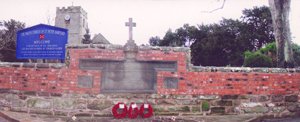 The names of the fallen are listed below this, and are followed by the words
They possess the reward
of their valour with God in heaven
and leave to the world the rich
inheritance of their memory
The World War II memorial on the right hand side of the wall commemorates the names
1939 – 1945
Maurice S. Barker Maj.
Laurence E. Byam Mid.
John Finch
Richard H. Hadley
and on the left hand side
1939 – 1945
William Pumfrey
Aubrey A. Upstone
Hon Gustavus L.
Hamilton-Russell Lt.
It is possible that Charles Armstrong, an architect from nearby Sherbourne, designed the original World War I memorial, which was first unveiled on Sunday 18th September 1921.The restored memorial was rededicated by Rev David Jessett prior to the Remembrance Day service on Sunday 9th November 2003.
Further information
War Memorials Trust reference WM1406
UK National Inventory of War Memorials: 51915
If you have a concern about this memorial please contact the Trust on conservation@warmemorials.org