Showcase result
Metton
Town or City: Metton
County: Norfolk
Country: England
WMT Reference Number: WM1348
Value of grant: £350.00
Type of memorial: Freestanding
Type of work: Conservation and repair
Grant scheme: Small Grants Scheme
Year: 2004

UKNIWM reference number: 56407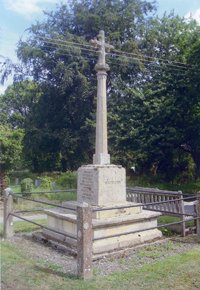 Metton war memorial cross is located on a grass triangle outside the graveyard of St Andrew's Church. The memorial was originally constructed of Portland Stone; there have been later additions of Clipsham stone. Two pedestals stand atop a plinth supporting a Latin cross. The memorial is listed at grade II.
War Memorials Trust gave £350 in 2004 towards the cost of fixing new stone pieces and re-pointing using lime mortar.
The memorial was erected about 1921. It records the names of 3 who died and 16 who served in World War I and 5 who served in World War II.
The inscriptions on the panels of the plinth read:
"To the glory of God
and in memory of
the men of Metton
who took part in the
Great War
Killed
Cecil Douglas Bird
Dudley J. De Angulo Bird
Reginald D. John Blyth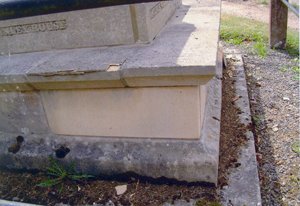 Served
C. Bird
M. Bird
F. Bird
S. Blyth
J. Bumfrey
W. Bumfrey
C. Claxton
J. Claxton
Served
E. Craske
C. Dixon
C. Everett
L. Herrivan
V. Jagg
F. Lawrence
C. Rowe
J. Wright
1914 – 1918"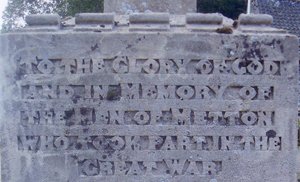 The inscriptions on the panels around the base of the plinth read:
"Served
1939-1945
George Dixon May Claxton
Stanley Rouse
Arthur Wright Fred Wright"
Further information
War Memorials Trust reference WM1348
UK National Inventory of War Memorials: 56407
The memorial is listed building number 495518
If you have a concern about this memorial please contact the Trust on conservation@warmemorials.org