Showcase result
Rotherfield Peppard Sports Pavilion
Town or City: Rotherfield Peppard
County: Oxfordshire
Country: England
WMT Reference Number: WM10977
Value of grant: £900.00
Type of memorial: Freestanding
Type of work: Surveys
Grant scheme: WMT Grant Scheme
Year: 2018

UKNIWM reference number: Unknown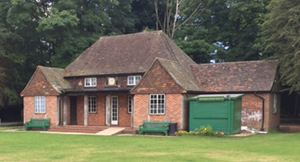 Rotherfield Peppard war memorial cricket and sports pavilion was built in 1952. Its construction is a single brick skin oak framed structure, under a plain handmade red clay tiled roof. The windows are galvanised steel single glazed Crittall unitsset into the primary oak framing, typical of that period. To the back and the front are areas of felt flat roof. The porch is supported on a number of oak columns supporting an oak cross in plain red quarry tiles, with a threshold step of about 50mm up to the building. Access to the building via the porch is via three brick steps with a secondary cast concrete ramp to one side. It commemorates the fallen of World War II.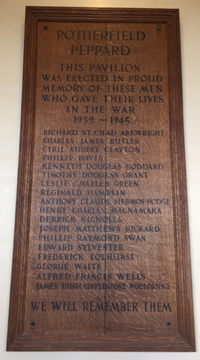 The building is set on the periphery of the cricket/sports field to the east side facing out over the cricket pitch. To the rear of the building is a rough gravel and earth car park. The building is bounded on three sides by large mature trees which shade and dominate the building.
In 2018, a grant of £900 was offered through War Memorials Trust Grants Scheme towards a condition survey and report with recommendations to inform necessary conservation and repair works which was undertaken by a conservation-accredited conservator.
In 1952 the building was funded by public subscription to replace the older timber cricket pavilion on land granted to the community by the Fleming family.
Further information
War Memorials Trust reference WM10977
UK National Inventory of War Memorials: Unknown
War Memorials Online: 253966
If you have a concern about this memorial please contact the Trust on conservation@warmemorials.org