Showcase result
Berkeley Church Bell Tower
Town or City: Berkeley
County: Gloucestershire
Country: England
WMT Reference Number: WM8942
Value of grant: £17000.00
Type of memorial: Freestanding
Type of work: Conservation and repair
Grant scheme: WMT Grant Scheme
Year: 2016

UKNIWM reference number: 187880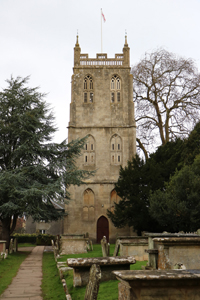 The bells of St Mary's church tower in Berkeley comprise a ring of ten bells two of which a war memorial bells. The bells are hung in the top chamber of the tower. The metal bell frame was installed in 1899. The ringing room has been formed by the insertion of a floor in the bottom chamber. The treble and the second bells were given by the Gloucester and Bristol Diocesan Association of Change Ringers as a memorial to members who fell in the Great War and carry dedication inscriptions cast in relief. The bells were rehung in 1978 by John Taylor of Loughborough. The bells are hung in the detached bell tower that was built in 1753 on the site of the previous tower to the north end of St Mary's churchyard.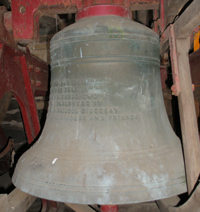 In 2016 War Memorials Trust offered a grant of £17,000 towards conservation works and the fees of a conservation-accredited professional to oversee the works. One of the cast sections of the upper frame (that added in 1921) had cracked and required removal and repair. Where the supporting rolled-steel joists and stub beams were embedded in the south wall of the tower, expansion due to corrosion had caused serious cracking of the masonry of the tower. Whilst the existing design of the bell frames could have been repaired, the structure was exposed to adverse weather and it was agreed by all parties that the best long-term approach was to rehang all ten bells on one level steel girder support. Alongside the bell work and masonry repair, additional work was required to repair the roof to prevent degradation to the bell installation, whilst the ringing chamber ceiling required repair and preparation of new openings for the bell ropes. These works began in 2016; the bells were rehung in 2017 and in early 2018 the ropes were installed between the chiming hammers and the frame in the ringing room completing the conservation project.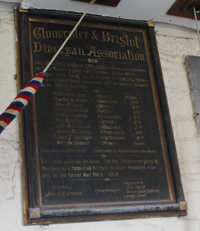 The bells were dedicated on Whit Monday 1921 by the Very Reverend The Dean of Bristol. for many years, and again today, the bells are rung semi-muted on Armistice Day. The most recent major works to the bells prior to this project works was to rehang them in 1978 on ball bearings (previously these were on plain bearings).
Some of the inscriptions details:
The Treble is inscribed
"Mears & Stainbank, Founders, London, 1921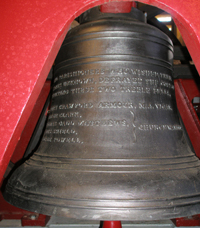 Two parishioners who wished their names unknown, defrayed the cost of erecting these two treble bells
Henry Crawford Armour, M.A. Vicar
George Clark, Thomas Gadd Matthews, James Shield, George Powell, Churchwardens."
The Second is inscribed
"Mears & Stainbank, Founders, London, 1921
To the glory of God, and in memory of our brethren who fell in the Great War. 1914-1918, these two treble bells were presented by the Gloucester and District Diocesan Association of Change Ringers and Friends."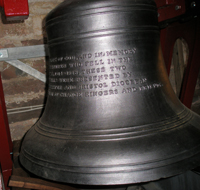 Further information
War Memorials Trust reference WM8942
UK National Inventory of War Memorials: 0000
War Memorials Online: 187880
If you have a concern about this memorial please contact the Trust on conservation@warmemorials.org