Showcase result
Normanby
Town or City: Middlesborough
County: North Yorkshire
Country: England
WMT Reference Number: WM2070
Value of grant: £165.00
Type of memorial: Non-Freestanding
Type of work: Adding and/or correcting inscriptions/names
Grant scheme: Small Grants Scheme
Year: 2007

UKNIWM reference number: 9528
A war memorial plaque on the side of a house at the western end of the High Street in the village of Normanby in North Yorkshire records the fallen of the Great War. The plaque is made of marble and has black letters.
The local history group were alerted to the fact that the name of Sergeant 10971, Maurice Bernard Mallinson of the Northumberland Fusiliers, had not been included and sought to add the name. In August 2007 War Memorials Trust contributed £165 towards the cost of fixing an additional stone to the memorial inscribed with Sgt. Mallinson's name, number and regiment.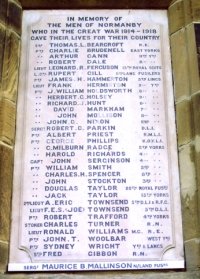 Sgt. Mallinson died during the Battle of Passchendale on 1 October 1916, but as his widow moved to Australia shortly after his death no request was made for his inclusion on the memorial. Sgt. Mallinson's daughter-in-law, who is 84, and grandson, travelled from Cornwall to attend a dedication service on 17 November 2007; his son, eighteen months old at the time of Sgt. Mallinson's death, is no longer alive. The memorial was originally built into the Normanby Board School in 1920. The school building was demolished in 1985 and the memorial saved and placed in exactly the same position on the building built to replace the school. The inscription at the top of the memorial reads
In Memory
the men of Normanby
who in the Great War 1914-1918
gave their lives for their Country

Sap. Thomas L. Bearcroft R.E.
Pte. Charlie Brudenell East Yorks
Pte. Arthur Cann 11th Yks
Pte. Robert Dale 8th Yks
Lieut. Leonard R. Ferguson 13th Royal Scots
L. Cpl. Rupert Gill 8th Lanc. Fusiliers
Pte. James H. Hammerton 5th Lincs
Lieut. Frank Hermiston 9th Yks
Pte. J. William Holdsworth 8th Yks
Pte. Herbert C. Holsey 9th Yks
Pte. Richard J. Hunt 8th Yks
Pte. David Markham 7th Yks
Pte. John Mollison 8th Yks
Pte. John C. Nixon 2nd Yks
Sergt. Robert C. Parkin D.L.I.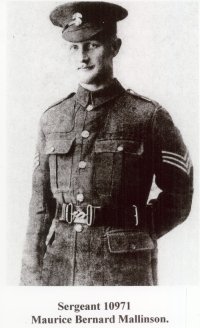 Pte. Albert Priest R.M.L.I.
Pte. George Phillips K.O.Y.L.I.
Pte. G. Milburn Radge 5th Yorks
Pte. Harold Richards 4th Yorks
Capt. John Serginson 4th Yorks
Pte. William Smith 2nd Yorks
Pte. Charles H. Spencer 8th Yorks
Pte. John Stockton 3rd Yorks
Pte. Douglas Taylor 20th Royal Fusrs
Pte. Jack Taylor 13th Yorks
2nd Lieut. A. Eric Townsend 5th D.L.I. & R.F.C.
Lieut. F.E.S.(Joe) Townsend 5th D.L.I.
Pte. Robert Trafford 4th Yorks
Stoker Charles Turner R.N.
Lieut. Ronald Williams M.C. R.E.
Pte. John Toolbar West Yks
Pte. Sydney Wright Yks & Lancs
Std. Fred Gibbon R.N.
Sergt. Maurice B. Mallinson N/Land Fusrs
Further information
War Memorials Trust reference WM2070
UK National Inventory of War Memorials: 9528
If you have a concern about this memorial please contact the Trust on conservation@warmemorials.org