Showcase result
Brunswick Methodist Church
Town or City: Whitby
County: North Yorkshire
Country: England
WMT Reference Number: WM1601
Value of grant: £250.00
Type of memorial: Non-Freestanding
Type of work: Conservation and repair
Grant scheme: Small Grants Scheme
Year: 2005

UKNIWM reference number: 31049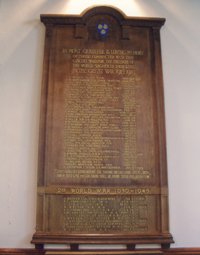 The Whitby Methodist Circuit war memorial is now found inside Briggswath and Sleights Methodist Church, which stands at the junction of Carr Hill Lane & The Carrs in Sleights, Whitby, North Yorkshire. It is a 7 ft by 4ft oak memorial board with the names of the fallen written in gold.
In May 2005 War Memorials Trust gave £250 towards the costs of cleaning and re-gilding the memorial and installing it in Briggswath and Sleights Methodist Church.
At the top of the memorial are the words
In most grateful and loving memory
of those connected with this
Circuit who for the freedom of
world sacrificed their lives
in the Great War of 1914 -1919.
36 names of the fallen of World War One are then listed along with their regiments and dates of death.
R.C. Wilson Driver R.F.A. May 22nd 1915
F.N. Waterhouse Pte. Lpool Scottish June 10th
E. London Pte. West Yorks. Nov 13th
J.H. Barnett Pte. Yorkshire Regt. May 18th 1916
W.G. Atkinson Stoker H.M.S. Black Prince May 31st
E. Johnson Pte. Yorkshire Regt. July 2nd
J.W. Flintoft Cpl. Durham L.P. July 5th
S. Bargate Cpl. Yorkshire Regt. July
T. Dixon Pte. York & Lancaster Regt. Oct 7th
G. Smailes 2nd Lieut.West Yorks Oct 22nd
E. Bell Pte. Middlesex Regt. Nov 15th
W.T. Gale Cpl. R.A.F. Jan 10th 1917
R.V.Tindale Pte. Yorkshire Regt. Feb 8th
Z.G. Storm Chief Mate S.S. Taxandrier Feb
G.H. Moat A.B. H.M.S. Gowan March 17th
J.C. Richardson Bombardier R.F.A. April 20th
G. Pennock Chief Mate S.S. Hollington June 2nd
W. Mills A.B. S.S.Hollington June 2nd
W.H. Appleton Gunner R.F.A. June 20th
A.T.Sawdon 2nd Lieut. East Yorks June 28th
A.W. Humble 1st Officer H.M.T. Elobt July 19th
G. Anderson L.Cpl Seaforth Highlanders Aug 22nd
H.E. Parnaby Pte. K.O.Y.L.I. Sept. 15th
E.E. Hall Gunner R.G.A Oct 1st
H. Mennell M.M.L.Cpl. Northumberland Fus. Oct 4th
G. Pybus Pte. Lancashire Fusiliers Oct 9th
A.Hill Pte. Royal Munster Fus. Dec 11th
J. Parkes Pte. Yorkshire Regt. Dec 12th
G. Parkes Sapper R.E. Dec 22nd
G. Screeton 2nd Mate S.S. Hinderwell Dec 25th
N.H. Binns Pioneer S.W.B. Mar 27th 1918
W.L. Jefferson Pte. York & Lancs Regt. July 20th
H. Thomes Pte. Australian I.F. Aug 13th
A.C. Wilson Driver R.F.A. Aug 23rd
Margery Anderson Nurse V.A.D. Nov 9th
H. Thompson Captain S.S. Northumbria Jan 9th 1919
Below this are the words
They shall yet stand before the throne an exceeding great army
and in that last muster there shall be found these our beloved.
The memorial was extended after the Second World War; on this section of the memorial is the heading
2nd World War 1939 -1945
and then a list of the twelve people from the Circuit who died, again with regiments and dates of death.
O. Barker L. Cpl. Green Howards Jan 4th 1941
R.G. Harrison Capt. M.N. Feb 28th
G. Scales Gnr. R.A. April 10th
W. Watson A.B. M.N. Feb 8th 1943
R.H. Frankland Sgt. R.A.F. Feb 26th
S.W Baxter 3rd Officer M.N. March 8th
L.E. Stubbs Pilot Officer R.A.F. July 17th
H. Watson Chief Officer M.N. Aug 15th
F.J. Bassam Pte. Seaforth Highlanders July 26th 1944
A.B. Schofield L/t Green Howards Aug 16th
E. Harrison Chief Officer M.N. Nov 22nd
W. Stuart Cook M.N. July 5th 1945
The memorial was made by Wilsons of Whitby and was originally placed in the entrance to Brunswick Methodist Church, the main church of the Methodist circuit covering the villages in the district of Whitby. This was in 1920. In 1946 the memorial was extended to include the names of those who had died in the Second World War. Brunswick Methodist Church was closed on 31st March 1997 and sold. The memorial was removed and was in storage out of public view for eight years until it was restored and installed in Briggswath and Sleights Methodist Church in October 2005.
Further information
War Memorials Trust reference WM1601
UK National Inventory of War Memorials: 31049
If you have a concern about this memorial please contact the Trust on conservation@warmemorials.org