Showcase result
Cheltenham
Town or City: Cheltenham
County: Gloucestershire
Country: England
WMT Reference Number: WM3353
Value of grant: £24400.00
Type of memorial: Freestanding
Type of work: Conservation and repair
Grant scheme: WMT Grant Scheme
Year: 2016

UKNIWM reference number: 20599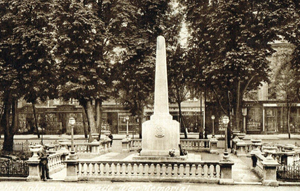 This war memorial constructed of Portland limestone and carries the names of 1284 local soldiers who lost their lives during World War I. The memorial is comprised of a two stepped base with large square plinth surmounted by a large tapered four-sided obelisk. The square plinth carries the names of Cheltenham's World War I Fallen. Each name is incised in plain capitals, with each individual letter drilled and filled with a grey cementitious mortar, on three sides of the memorial. The main façade carries the Cheltenham escutcheon carved into the stone face and on the reverse southeast face a wreath with reversed sword and dates "1914-1919" is carved at the base of the obelisk. The memorial is located in the Long Gardens facing the Borough Council Offices in the centre of Cheltenham enclosed by stone balustraded surround and gardens. A separate balustrade to the southeast has memorial plaques for World War II as well as additional plaques for later conflicts.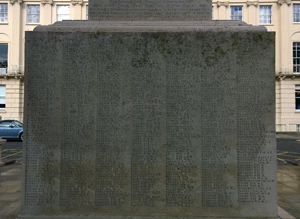 In 2016 War Memorials Trust offered a grant of £24,400 towards woks to clean the memorial using steam cleaning. Damaged stone was repaired using indents to match the original stone and the memorial was repointed using a lime mortar where this was required. The lettering had eroded in a number of areas and had become illegible and so these were re-cut and filled to match extant original lettering.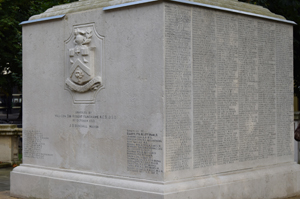 The Cheltenham war memorial was commissioned by the local council and Local Authority following World War I. The memorial was designed and finally constructed by local masonry company, R.L Boulton following a protracted fundraising campaign and extensive consultation with regard to the form the memorial would take. It was unveiled and dedicated in 1921 and has been, and continues to be, a focal point for civic and armed forces events.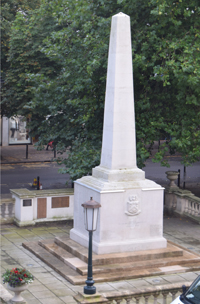 The inscription reads:
1914-1918 Remember The Men Of Cheltenham Who Gave Their Lives For You In The Great War Of 1914-1919. If They Were Strangers To One Another Here In Their Common Home, They Served And Wrought And Died In Many Lands Near And Far As A Band Of Brothers. Learn From Them So As To Live And Die That, When You Have Followed Them And Are No More Seen, You May, Like Them, Be Remembered And Regretted
Further information
War Memorials Trust reference WM3353
UK National Inventory of War Memorials: 20599
War Memorials Online: 154825
The 2016 Cheltenham project was integral to advice produced by Historic England on Conserving War Memorials Case Study: Cleaning.
If you have a concern about this memorial please contact the Trust on conservation@warmemorials.org