Showcase result
Radford St Nicholas
Town or City: Radford
County: West Midlands
Country: England
WMT Reference Number: WM7804
Value of grant: £6099.00
Type of memorial: Freestanding
Type of work: Conservation and repair
Grant scheme: Grants for War Memorials (Eng)
Year: 2014

UKNIWM reference number: 19683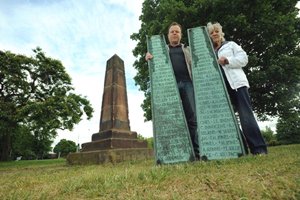 The memorial consists of a Runcorn stonework obelisk, raised from ground level on a three stepped base. Mounted on each elevation of the obelisk is a bronze plaque commemorating those who served and died in the First World War. A rectangular bronze dedication plaque is mounted on the stepped base. The memorial is located on open church land between St Nicolas Church and Radford Road.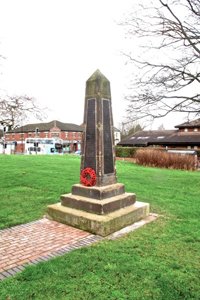 In 2014 a grant of £6.099 was offered for repair and conservation work. The memorial had been the target of thieves and sadly three plaques of the five bronze were stolen, although lucky of the missing plaques was later recovered. The grant funding supported the replication of the missing bronze plaques, using photographs, and re fitting all the plaques to the stonework using anti-theft fixings. The remaining plaques were also appropriately cleaned and protected with a wax finish.

The idea of the memorial was proposed by the Rev FG Upton Vicar of St Nicolas Church, Radford in Hune 1918 in a letter to parishioners. A committee was formed to set about raising fund for the memorial. They approached Councillor C Vermon Purgh, who sponsored the scheme and provided the funds for the obelisk.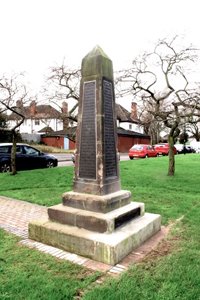 The memorial was unveiled by Councillor C Vermon Purghon 20th December 1919 in front of a host of dignitaries including the Mayor and Bishop. The memorial was designed by Mr I T R j Meakin, Architect of Coventry. The stonework was undertaken by Messes J White and Sons, Yardly, Birmingham. The bronze work was the work of Messrs Baker and Sons, St Pauls Square, Birmingham.
Further information
War Memorials Trust reference WM7804
UK National Inventory of War Memorials: 19683
War Memorials Online: 141947
If you have a concern about this memorial please contact the Trust on conservation@warmemorials.org