Showcase result
Lydney
Town or City: Lydney
County: Gloucestershire
Country: England
WMT Reference Number: WM1559
Value of grant: £1730.00
Type of memorial: Freestanding
Type of work: Conservation and repair
Grant scheme: WMT Grant Scheme
Year: 2015

UKNIWM reference number: 35699
Lydney war memorial consists of a cross fleury set atop a high Tuscan column. The elegant column is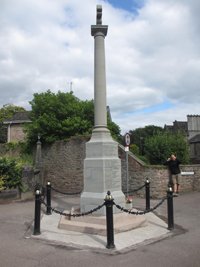 raised on a distinctive hexagonal plinth that rises in two stages to the base. The war memorial commemorates those that fell in the First and Second World Wars, their names are listed along with a general dedication. The inscriptions are incised, with the names also painted black. The war memorial stands in front of the memorial cottages on Church Road, Lydney, Gloucestershire and is situated within Lydney Conservation Area.
In 2015 a grant of £1,730 was awarded through the War Memorials Trust Grants Scheme to undertake cleaning and re-pointing work to improve legibility of the inscriptions. The memorial was cleaned using soft bristle brushes and water. The joints were re-pointed using a lime based mortar to match the original.
The Lydney War Memorial Trust was founded by Lord Bledisloe in 1927. He built a group of four almshouses on Church Road just north of the church, to be occupied predominantly by dependants of Lydney men killed in the First World War. The Memorial was erected at the same time and forms a focal point in front of the buildings.
Further information
War Memorials Trust reference WM1559
UK National Inventory of War Memorials: 35699
War Memorials Online: 35699
If you have a concern about this memorial please contact the Trust on conservation@warmemorials.org