Showcase result
Cupar
Town or City: Cupar
County: Fife
Country: Scotland
WMT Reference Number: WM7452
Value of grant: £17901.00
Type of memorial: Freestanding
Type of work: Conservation and repair
Grant scheme: Centenary Memorials Restoration Fund
Year: 2015

UKNIWM reference number: 5743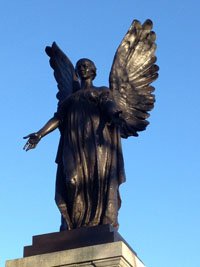 The category B listed memorial consists of a raised, plateau which is accessed via a set of steps, flanked with granite piers and surrounded on with decorative ironwork railings to remaining 3 sides. Mounted on the piers are bronze plaques commemorating those of who their lives in the Second World War. The First World War memorial is a 3 stepped granite plinth with classic Greek detailing including a carved frieze inscribed 'In memory of the men of Cupar town and parish who fell in 1914-1918' above which is are inset bronze plaques commemorating those of lost their lives in the First World War. Surmounting the memorial is an impressive bronze winged Victory looking towards the town. The memorial is located at the junction of Station Road and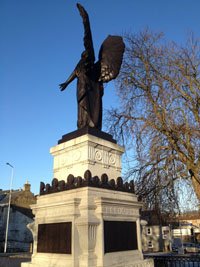 St Catherine Street, Cupar.

In 2014 a grant of £17,900 was offered for repair and conservation work. This memorial faced a number of issues. Exposure to weather and pollution had resulted in a build-up of dirt and biological growth on the stone as well as corrosion of the bronze elements. Joints which have been pointed with cement mortar in the past were cracked or missing which mean that water was getting into the memorial. In addition, past unsightly repair work to the stone boundary wall were starting to fail. To address these issues the memorial was appropriately cleaned and repair work was undertaken to the stone and the bronze elements of the memorial.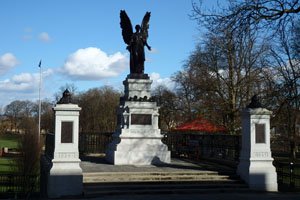 The bronze was then protected with a wax coating. The existing cement joints were removed and repointed with a lime mortar and sensitive repair work was carried out at the boundary wall.

The memorial was erected by public subscription and was unveiled on the 29th April 1922 by Field Marshall Douglas Haig James Stark , Provost to commemorate the 189 local men and women who lost their lives in the First World War. The memorial is the work of John Kinross along with Henry Snall Gamley who sculpted the Victory statue which surmounts the memorial. In 1950 the Second World War piers were unveiled by Earl of Elgin.
Further information
War Memorials Trust reference WM7452
UK National Inventory of War Memorials: 5743
If you have a concern about this memorial please contact the Trust on conservation@warmemorials.org