Showcase result
Gordons School
Town or City: Huntly
County: Aberdeenshire
Country: Scotland
WMT Reference Number: WM8458
Value of grant: £940.00
Type of memorial: Non-Freestanding
Type of work: Conservation and repair
Grant scheme: Centenary Memorials Restoration Fund
Year: 2015

UKNIWM reference number: 00000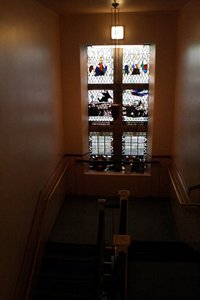 The memorial consists of a two light window comprising of six individual stained glass panels, two of which are devoted to the names of the fallen. The remaining four panels are symbolical pictures:
The two groups at the base of the design represent on one side the departure of the soldiers, and on the other side types of those from whom they were drawn – the student, the farmer, the hunter, the shepherd – surrounded by children and the aged. In the background can be seen representations of their occupations. Above these groups are the name panels spaced into small divisions and over them are two allegories – firstly 'Death riding amongst the legions on his pale horse' and secondly 'Victory presiding over the field.' The two highest panels have three figures each: firstly, Lyrical Poetry singing praise, Consolation solacing the bereaved, and History recording the exploits of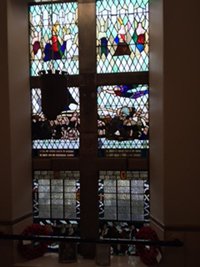 the brave. Secondly, Justice weighing the worth of the sacrifice, Peace signifying its results, and Epic Poetry establishing renown.
The memorial window is located in a stairwell within the Gordons School, Huntly.
In 2014 War Memorials Trust offered a grant of £940 for repair and conservation work. The putty in the window was drying out and was cracked or missing in a number of locations, two piece of glass were missing from the window and a number of the copper ties had become loose causing movement in each of the panels. To address these issues the whole window was re cemented on the external surface, the missing pieces of glass were replaced on a like for like basis and the copper ties were tighten up very slowly to prevent breakages.
The Gordons School war memorial window was unveiled on 23rd August 1921, by former pupil Sir Edward Troup, K.C.B., K.C.V.O., Permanent Under-Secretary of State at the Home Office. It was designed and executed by J.A.H. Hector, lecturer on painting and drawing at Aberdeen Training Centre, and commissioned by the school authorities.
The main inscription on the window reads:
"To the memory of the former
pupils and teachers of the

Gordon Schools who gave their
lives in the Great War 1914-1918"

"They shall not
grow old as we that
are left grow old."

"Age shall not
weary them nor the
years condem"

"At the going down
of the sun
and in the morning
we will remember
them"
Further information
War Memorials Trust reference WM8458
UK National Inventory of War Memorials: 00000
War Memorials Online: WM8458
If you have a concern about this memorial please contact the Trust on conservation@warmemorials.org