Showcase result
Longhope
Town or City: Longhope
County: Orkney
Country: Scotland
WMT Reference Number: WM8030
Value of grant: £3440.00
Type of memorial: Freestanding
Type of work: Conservation and repair
Grant scheme: Centenary Memorials Restoration Fund
Year: 2016

UKNIWM reference number: 00000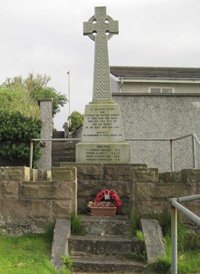 The war memorial consists of a polished grey granite Celtic cross, with knot pattern carved in relief surmounting a tapered plinth with square base. The memorial is enclosed by crenelated boundary wall of roughly finished sandstone. Access provided from path by two sandstone steps. The memorial is set back from the road and overlooks the pier in Longhope.
In 2014 War Memorials Trust offered a grant of £730 for repair and conservation work. Over time the painted inscription on the memorial had worn away meaning that lettering had been lost. In addition, biological growth on the memorial was making the existing inscription more difficult to read.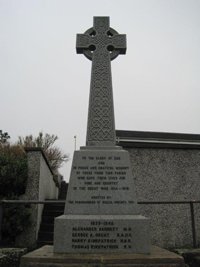 To address these issues work was undertaken to the clean the stone, replace missing lead letters and repaint the inscription. Alongside this work the missing name of Alexander Walter Sinclair of the Canadian Merchant Navy who died during the World War II was added to the memorial.
In 2016 a further grant of £3,440 was offered for repair and conservation work to address movement caused by a corroded dowel which had been set in with lead in the cross section of the memorial. These elements were carefully removed and new stainless steel dowels were set in using resin. Cracked cement mortar which had been used previously between the base of the cross and the shaft of the memorial was also removed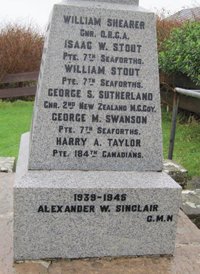 and the cross was reset in position using a lime mortar. Pointing was also undertaken using lime mortar. The organic growth staining evident on the memorial was addressed using water and natural bristle brushing.
The main inscription on the memorial reads:
"To the glory of God
and
in proud and grateful memory
of those from this parish
who gave their lives for
King and Country
in the Great War 1914-1916

Erected by
The parishioners of Walls, Orkney 1921"
Further information
War Memorials Trust reference WM8030
UK National Inventory of War Memorials: 00000
War Memorials Online: 151189
If you have a concern about this memorial please contact the Trust on conservation@warmemorials.org