Showcase result
King's Sutton
Town or City: King's Sutton
County: Northamptonshire
Country: England
WMT Reference Number: WM3266
Value of grant: £193.00
Type of memorial: Freestanding
Type of work: Conservation and repair
Grant scheme: Small Grants Scheme
Year: 2014

UKNIWM reference number: 15075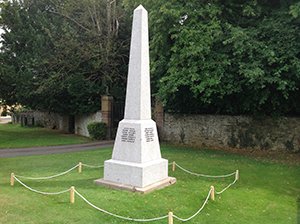 King's Sutton war memorial is located at The Square and takes the form of an obelisk. The memorial is formed of a base surmounted by a plinth and obelisk, and the inscriptions are formed of lead lettering around the base and plinth. The memorial is dedicated to the fallen of the First and Second World Wars and stands in a conservation area.
In 2014, War Memorials Trust offered a grant of £193 towards cleaning the war memorial. The memorial was steam cleaned using the DOFF pressure steam cleaning system to remove the vegetative growths. SmartWater solution was then added to the metal elements of the memorial.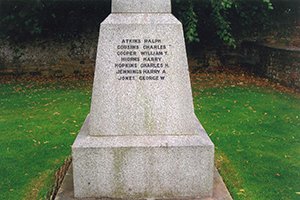 The inscription on the memorial reads:
"To the glory of God
and in grateful memory of
the heroic men
who gave their lives
for king and country
in the Great Wars
1914-1918 1939-1945
Rest in peace"
"(names)"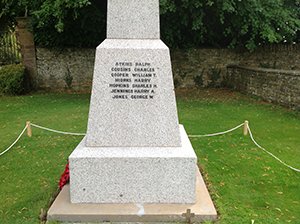 Further information
War Memorials Trust reference WM3266
UK National Inventory of War Memorials: 15075
War Memorials Online: 152212
If you have a concern about this memorial please contact the Trust on conservation@warmemorials.org