Showcase result
Wheatley
Town or City: Wheatley
County: Oxfordshire
Country: England
WMT Reference Number: WM8280
Value of grant: £1900.00
Type of memorial: Freestanding
Type of work: Conservation and repair
Grant scheme: Small Grants Scheme
Year: 2014

UKNIWM reference number: 31795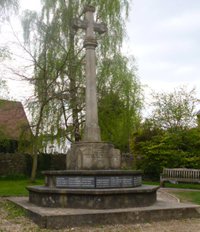 Wheatley war memorial cross is located in the memorial garden on the High Street which is within Wheatly Conservation Area. It is a Latin cross atop a square plinth on a two-stepped octagonal base upon a square bottom step. Around the top step are plaques carrying the names of the fallen of World Wars I and II. The front of the plinth carries a dedication explaining the memorial's provenance.
In 2014 a grant through the Small Grants Scheme supported works to steam clean the memorial, re-point the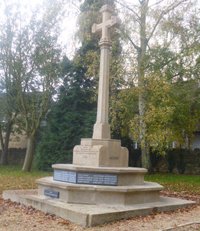 open joints using lime mortar and the re-painting of selected lettering that had deteriorated on both plaques and panels. Following completion of works a grant payment of £1,900 was made.
This memorial was originally dedicated on 9th February 1921 at Magdalen College in Oxford. It was moved to Wheatly and rededicated in October 1974 having been dismantled and stored by the college before being offered to the village. It is believed this was placed close to the original Wheatly war memorial which was unveiled on 12th June 1921 and on the 20th of that month Wheatly R.D.C took on responsibility for the memorial from the Wheatly War Memorial Committee which had overseen its erection.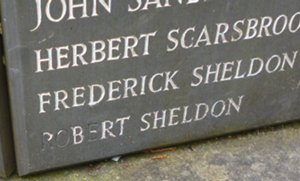 The inscription reads:
"This memorial
once at Magdalene College
commemorates the inhabitants of Wheatley who
gave their lives in two World Wars
1974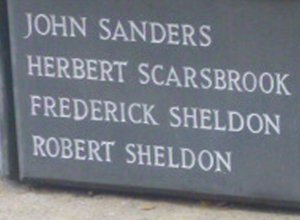 From War Memorials Trust perspective it is unfortunate that at some point after works in 2014 an additional plaque was added commemorating 2014 as a centenary year. War Memorials Trust does not believe it is appropriate for plaques to be added to war memorials that do not sympathetically reflect the original purpose of the memorial in question. This is because the intended purpose of the memorial is changed by such additions. War memorials provide a focus for commemorating those who have fought or fallen in a conflict and this importance should not be detracted from through unsympathetic additions. It is also important to remember that the addition of such plaques on a regular basis is unlikely to be sustainable as space on a war memorial is limited. Such works are not eligible for funding and can be excluded from potential works within grant offers. For further information on this issue read the full FAQ on the subject.
Further information
War Memorials Trust reference WM8280
UK National Inventory of War Memorials: 31795
War Memorials Online: 192569
If you have a concern about this memorial please contact the Trust on conservation@warmemorials.org