Showcase result
Watford Peace memorial
Town or City: Watford
County: Hertfordshire
Country: England
WMT Reference Number: WM4182
Value of grant: £4917.00
Type of memorial: Freestanding
Type of work: Conservation and repair
Grant scheme: English Heritage/Wolfson Foundation Grants
Year: 2012

UKNIWM reference number: 2950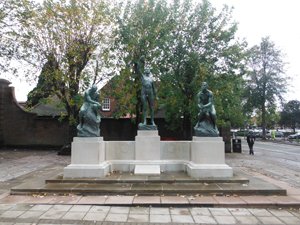 The Watford war memorial is a Grade II listed structure. It consists of three bronze statues of men representing 'the fallen', 'the wounded' and 'victory' on an inscribed limestone plinth. The memorial was designed by Mary Pownell Bromet and cast by Messrs. Morris Singer & Co.
The memorial was relocated from its original position outside the Peace Memorial Hospital to outside the Town Hall on 13 February 1971 due to highway works.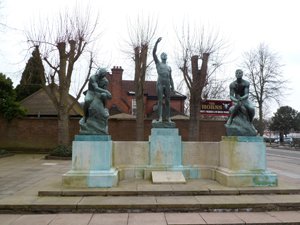 In 2012 War Memorials Trust received an application form for the Grants for War Memorials scheme to clean the sculptures and stone work to remove verdigris staining, re-point the memorial, repair areas of stone and re-cut lettering where required. A grant of £5,176 was offered towards a total project cost of £10,335. Due to a decrease in the project costs the final grant payment was £4,917.
As part of the grant application a copy of a passage from 'Response' by Mary Pownall Bromet was submitted. This detailed that when she sent the figures to Messrs. Morris Singer & Co for casting they were instructed to use as little toning as possible as "time alone can produce the true patine'. This information was invaluable when determining how to address the bronze statues. It is typical when dealing with projects for bronze that there is a desire to clean and re-patinate back to brown. This can be problematic as it is often difficult to find evidence of the original patina and it is very rare to find evidence of the artist's intent.
In this case it was evident from the artist's book that her intention was for the sculpture to develop a natural patina. When bronze is exposed to the elements it will oxidise over time and develop a stable copper oxide (green) colouring. This is often wrongly believed to be evidence of active corrosion. As the methods for removing active corrosion are abrasive it is important that a metal specialist is asked to advise as unnecessary removal of stable copper oxide can cause damage.
In the case of the Watford memorial the patina was considered to be stable and the evidence of the artist's wishes showed that it would be inappropriate to heavily re-patinate the bronze to a brown finish. As such the memorial underwent a light clean using steam. In areas there was black streaking which required further attention to allow for a homogenous finish. Further cleaning was undertaken to these areas and a tinted wax applied to assist with blending. Finally a protective micro-crystalline wax was applied to stop the bronze deteriorating and from staining the stone plinth.
This project shows how invaluable appropriate research can be in determining the appropriate intervention.
Further information
War Memorials Trust reference WM4182
UK National Inventory of War Memorials: 2950
If you have a concern about this memorial please contact the Trust on conservation@warmemorials.org