Showcase result
Woolhampton
Town or City: Woolhampton
County: Berkshire
Country: England
WMT Reference Number: WM4871
Value of grant: £1000.00
Type of memorial: Freestanding
Type of work: Conservation and repair
Grant scheme: Small Grants Scheme
Year: 2012

UKNIWM reference number: 18735
This war memorial consists of a Latin cross surmounting an octagonal shaft, which is on top of a square plinth and a two stepped base all constructed from a Doulting stone. On three sides of the memorial the lettering is inscribed onto the face of the plinth, and on one side the lettering is in relief with a figure of a soldier and a sailor with arms reversed standing either side of the inscription. The memorial is dedicated to the men of Woolhampton who fell in World War II. It is located in St Peters Churchyard, Woolhampton.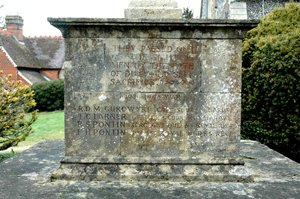 In 2012 War Memorials Trust offered a grant of £1,000 towards works to the memorial. This included cleaning using DOFF steam cleaning system, which effectively removed all traces of lichen and organic growths. The loose stones on the steps of the memorial were re-fixed using lime mortar and all of the loose and defective mortar in the joints was raked out by hand, following which they were re-pointed using a lime mortar which had been colour matched to the memorial. The letters were then sharpened where required and the incised letters were re-painted to match the original colour.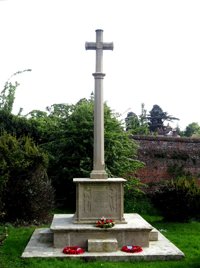 The memorial was designed by Mr E T May, FRIBA and was unveiled by Brigadier-General E J Phipps Hornby who was awarded the Victoria Cross for gallantry in South Africa, and who served as a Gunnery-General throughout the Great War. The Rector of the parish, the Rev H F Freeman, lost a son during the war, dedicated the memorial.
Further information
War Memorials Trust reference WM4871
UK National Inventory of War Memorials: 18735
War Memorials Online: 103414
If you have a concern about this memorial please contact the Trust on conservation@warmemorials.org