Showcase result
Leamington Spa
Town or City: Leamington Spa
County: Warwickshire
Country: England
WMT Reference Number: WM2897
Value of grant: £2500.00
Type of memorial: Freestanding
Type of work: Adding and/or correcting inscriptions/names
Grant scheme: Small Grants Scheme
Year: 2012

UKNIWM reference number: 2204
This war memorial consists of a bronze life-size figure of a soldier with his head bowed and hands resting on an upright rifle. The soldier stands on a Cornish granite square plinth. The plinth is inscribed on four sides with the names of the soldiers who fought in World War I and II, Korea and the Falklands.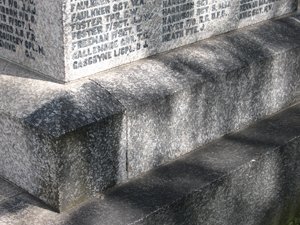 In 2012, War Memorials Trust offered £2,500 towards cleaning and the addition of names to the memorial. The memorial is located close to a busy highway within the Town Centre of Leamington Spa. This means that there had been a build up of atmospheric pollution on the surface of the stone, which can be corrosive if left untreated. No records could be found of the memorial having been cleaned since it was erected in 1922. The memorial was cleaned by hand using water and non-metallic bristle brushes.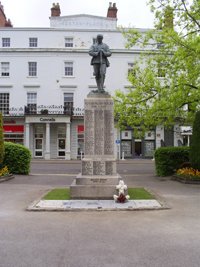 New slabs had been added around the memorial for the addition of names which were missing from the memorial. These names could not be accommodated on the memorial so granite slabs were inserted around its base with lettering to match the existing inscriptions.
The memorial was designed by sculptor Albert Toft of Birmingham and it was unveiled on 27 May 1922 by Lieutenant-General Sir Aylmer Hunter-Weeton.
Further information
War Memorials Trust reference WM2897
UK National Inventory of War Memorials: 2204
War Memorials Online: 120365
If you have a concern about this memorial please contact the Trust on conservation@warmemorials.org