Showcase result
Amesbury
Town or City: Amesbury
County: Wiltshire
Country: England
WMT Reference Number: WM3989
Value of grant: £2500.00
Type of memorial: Freestanding
Type of work: Restoration
Grant scheme: Small Grants Scheme
Year: 2011

UKNIWM reference number: 23874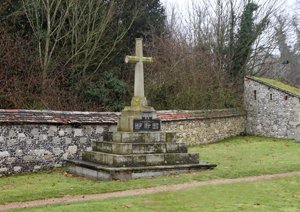 Amesbury war memorial stands in the churchyard of St Mary and St Melor on Church Road in the historic town of Amesbury. It is a Latin cross on a plinth on a four-step base. The plinth carries metal plaques with the names of the fallen from both World Wars.
The memorial was originally 12ft tall upon a four step plinth constructed of Chilmark Stone and stood on the Village Green. It was dismantled in 1964/5 to make way for a new road and it took until 1969 for it to be reconstructed in the churchyard. When rebuilt the shaft was reduced by half. Nothing is known about why this change took place. This change in height affected the proportions of the memorial and meant that it lacked its former elegance.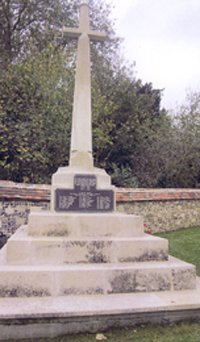 In 2010 the community decided that a repair and conservation project was necessary. The project included restoring the shaft of the cross to its original height using historic photographs showing the design and height of the missing section of shaft. A grant of £2,500 was offered through the Small Grants Scheme towards this work which included the addition to the shaft, cleaning with water and natural bristle brushes and re-pointing with lime mortar as required. The grant also included the condition that the plaques are protected through the In Memoriam 2014 project. A faculty was required for these works.
The memorial was designed by E. C. Ponting FSA who was the Diocesan Architect. It was built by Gething and Co. of Chilmark. On 31st October 1920 the memorial was dedicated by Rev. E Rhys Jones and unveiled by Lt-Gen Sir Montague Harper KCB, DSO. On 18th April 1948 a service was held to dedicate the names of those who fell in World War II. At this time metal plaques were added with the names from both World Wars.
Further information
War Memorials Trust reference WM3989
UK National Inventory of War Memorials: 23874
If you have a concern about this memorial please contact the Trust on conservation@warmemorials.org