Showcase result
Mersey Iron Works
Town or City: Ellesmere Port
County: Merseyside
Country: England
WMT Reference Number: WM6837
Value of grant: £3020.00
Type of memorial: Non-Freestanding
Type of work: Conservation and repair
Grant scheme: WMT Grant Scheme
Year: 2017

UKNIWM reference number: 42776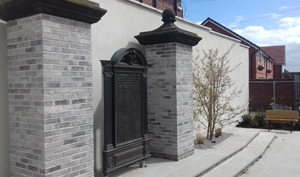 Mersey Iron Works war memorial is located in the new memorial garden at 1a Whitby Road on the corner of Cromwell Road in Ellesmere Port near the original location of the entrance to the Mersey Iron Works. The memorial is a large bronze plaque with ionic capitals at the side and a Pro Patria shield above. The inscription in raised lettering commemorates those who died in World War I.
In 2017, a grant of £3,020 was awarded from War Memorials Trust Grants Scheme, supported by First World War Memorials Programme, towards the repair and cleaning of the memorial to reinstate it to public view. It was also waxed to provide a protective coating that will need to be renewed every few years as part of its maintenance. The memorial was then erected near its original site in a new memorial garden which has now been laid out.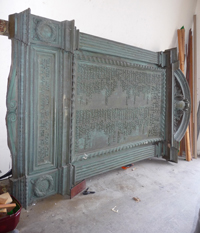 The memorial was unveiled on Sunday 8th August 1926 by Maj Gen Burnett Hitchcock and dedicated by the Very Rev Dean of Chester. After the Mersey Iron Works (formerly Wolverhampton Iron Co. resited to Ellesmere Port in 1905) closed in 1997 when they were part of British Steel, the plaque was moved initially to a playing field then to the Royal British Legion on Stanney Lane, which was closed in 2012, and demolished in 2014.
It is believed the memorial, which has no maker's mark, was probably made at the works itself by fellow workers of those it commemorates.
Further information
War Memorials Trust reference WM6837
UK National Inventory of War Memorials: 42776
War Memorials Online: 147485
If you have a concern about this memorial please contact the Trust on conservation@warmemorials.org