Showcase result
Holy Trinity
Town or City: Cambridge
County: Cambridgeshire
Country: England
WMT Reference Number: WM2520
Value of grant: £10000.00
Type of memorial: Freestanding
Type of work: Conservation and repair
Grant scheme: English Heritage/Wolfson Foundation Grants
Year: 2009

UKNIWM reference number: 000000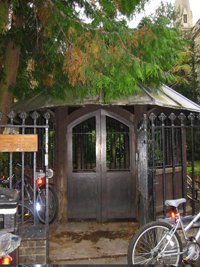 The memorial shelter is located just inside the boundary of Holy Trinity Church, Cambridge and commemorates the fallen of the First World War. The memorial is a timber octagonal shelter with a lead pointed roof, arched window openings and a wooden bench running around the interior.
The Trust had been in correspondence with Cambridge City Council since 2003 when the poor condition was initially reported. Difficulties in trying to establish the ownership of this memorial delayed a project to rectify the issues with the condition.
An application to the Grants for War Memorials Scheme was received in 2009. The project was to renew areas of timber which had rotted. This was largely at the base of the structure where a concrete base had later been added blocking the drainage of rain water from the area. The issue of drainage was also addressed as part of the project. Some of the oak panels on the side of the memorial had been damaged where people had tried to gain access to the memorial and these were to be renewed. There was also some graffiti inside the memorial to be removed.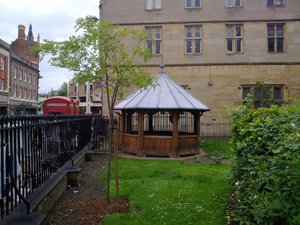 The Grants for War Memorials Scheme offered a grant of £10,000 towards a project cost of £23,070.
The memorial shelter was unveiled in 1922 and has names and a dedication engraved into the timber inside of the memorial. At the time of the application to the Grants for War Memorials Scheme the shelter was kept locked due to the vandalism the structure had suffered. Following the grant funded project this shelter will once again be open for the use of the public between the hours of 9 am and 3.30 pm.
On the railings surrounding the church is an associated plaque which reads:
'Holy Trinity war memorial
passers by are invited
to enter in
for rest and shelter'
This plaque has also been repaired as part of the project.
Further information
War Memorials Trust reference WM2520
UK National Inventory of War Memorials:
If you have a concern about this memorial please contact the Trust on conservation@warmemorials.org