Showcase result
St Margaret's
Town or City: Oxford
County: Oxfordshire
Country: England
WMT Reference Number: WM3409
Value of grant: £6185.00
Type of memorial: Freestanding
Type of work: Conservation and repair
Grant scheme: English Heritage/Wolfson Foundation Grants
Year: 2011

UKNIWM reference number: 32094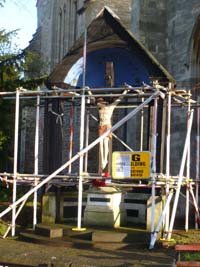 St Margaret's war memorial is located on the edge of St Margaret's Churchyard in Oxford and is Grade II listed. The memorial consists of an oak cross with a cast-iron figure of Christ. The Calvary is covered by a timber half domed canopy which is internally decorated to represent the night sky with a number of metal stars affixed to it. Beneath the Calvary, on the stone plinth, is a bronze plaque. Further bronze plaques are attached to the stone plinth of the canopy with a dedication and a list of the names of the 47 men of the parish who fell in the First World War.

An application to the Grants for War Memorials scheme was received in March 2011 for works to address structural instability caused by a Death Watch beetle infestation and wet rot damage to the timbers supporting the canopy. The project also included some light cleaning, an additional plaque for later conflicts, re-fixing of stars and re-roofing. The project was awarded a grant of £6,185.

The cleaning of the memorial was undertaken using water, soft natural bristle brushes and a non-ionic detergent to remove the build up of dirt and algae. The damage to the timber supports was localised, as such, it was addressed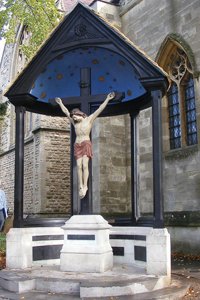 by limited piecing in of new timber. This approach allows maximum retention of historic fabric. The works were completed in October 2011.

The memorial was dedicated in 1920 and the cast-iron figure of Christ was cast by Lucy's Engineering Works in nearby Jericho. The figure is reported to have been one of 200 castings made. The style of the memorial is said to have been modelled on the shrines encountered at roadsides by troops in Flanders.

The dedication reads:

"They loved not
their lives unto death
For King and Country
1914-1918"

A full write up of this grant case can be found in Bulletin No 52.
Further information
War Memorials Trust reference WM3409
UK National Inventory of War Memorials: 32094
www.headington.org.uk/oxon/stmargaret/
www.warmemorials.org/uploads/publications/322.pdf
If you have a concern about this memorial please contact the Trust on conservation@warmemorials.org