Showcase result
St Paul's Church, Worcester
Town or City: Worcester
County: Worcestershire
Country: England
WMT Reference Number: WM2637
Value of grant: £2555.00
Type of memorial: Freestanding
Type of work: Conservation and repair
Grant scheme: English Heritage/Wolfson Foundation Grants
Year: 2009

UKNIWM reference number: 32233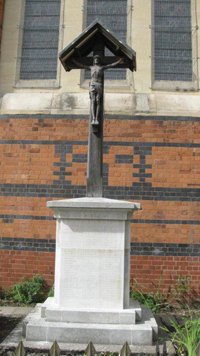 The St Paul's Church war memorial is a timber Calvary atop a limestone plinth. The Calvary has a carved timber depiction of Christ and a small timber roof. The memorial is located in the grounds of St Paul's Church and is 6 feet high.
The plinth is inscribed on three faces with the names of 128 men of the parish who died in the First World War.
The memorial was funded by public subscription and was dedicated on 10th April 1921 by the Reverend Geoffrey A. Studdert Kennedy. It was designed by G. E. Sprague, a sculptor from Worcester.
The memorial is not listed in its own right. However St Paul's Church is Grade II listed and, as the memorial is within the Church grounds, it is considered to be curtilage listed. This means that the war memorial is included in the listing of the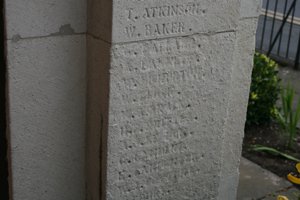 main Church building and has legal protection as a result.
In 2009 the Worcester Diocesan Board applied to the Grants for War Memorials scheme for localised replacement of the stone inscription panels and works to the roof of Calvary.
In May 2009 a grant of £2,555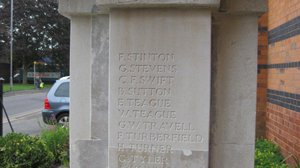 was awarded towards a project cost of £5,115.48. The grant was for the works to the roof and the replacement of four inscription panels.
The four inscription panels approved for replacement were badly eroded. It was felt that the uneven nature of the weathering on the memorial was due to the quality of the stone originally selected for these areas. As such it was deemed a more appropriate and long-term solution to replace rather than re-cut these panels.
The dedication on the top of the front panel reads:
"To the glory of god
in proud and loving memory
of the men from this parish who gave
their lives for us in the Great War 1914-1918"
Further information
War Memorials Trust reference WM2637
UK National Inventory of War Memorials: 32233
If you have a concern about this memorial please contact the Trust on conservation@warmemorials.org