Showcase result
Hawkhurst
Town or City: Hawkhurst
County: Kent
Country: England
WMT Reference Number: WM847
Value of grant: £2085.00
Type of memorial: Freestanding
Type of work: Conservation and repair
Grant scheme: English Heritage/Wolfson Foundation Grants
Year: 2003

UKNIWM reference number: 16414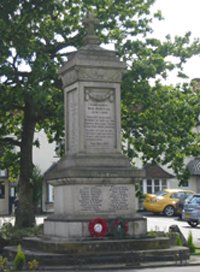 The war memorial in the Kentish village of Hawkhurst, near Tunbridge Wells, is a large stone edifice standing at the junction of the High Street and Highgate Hill. It stands on a square three-stepped base with rounded corners. At the top of the memorial is a wheel cross on a small pillar; this stands on a large four-sided pillar with a moulded top of three steps and a frieze decorating an angled course of stone. On the faces of the pillar recessed panels are inscribed with a dedication and lists of names of the World War I fallen. The dedication is beneath a carved stone swag. The pillar stands on a squat plinth on the front face of which are recorded the names of the fallen of World War II. The memorial is surrounded by a low iron fence; a pavement runs in front of it and the other three sides are surrounded by lawn.
In 2003/4 English Heritage offered a grant of £2,085 towards work to clean the memorial using cold water at a prescribed pressure, phosphor bronze bristle brushes and graded gritstones, to rake out and re-point all open and loose joints using a lime-based mortar mix and to replace any missing letters. At some point in the past the steps had been faced in concrete, but it had deteriorated to the point that water was getting in, so the cement was removed and replaced by a granolithic screed.
The dedication reads:
"Hawkhurst
war memorial
1914 – 1918
Erected in sacred
memory of our fallen
heroes who gave their
lives for their country.

Glory to God in the
highest and on earth
peace and good will
towards men.

Geo. Rex 1921"
The land on which the memorial is built was donated by Mr J Davis, a local builder whose family still run a building business in the village. The memorial was designed by the architect Henry G Liley who lived in the village of Hawkhurst and who was very benevolent in letting his house and grounds be used for charitable activities. The memorial was unveiled on 12th June 1921 by Lord Goschen of Seacox, who had been born in Hawkhurst.
Further information
War Memorials Trust reference WM847
UK National Inventory of War Memorials: 16414
War Memorials Trust has information that this memorial is listed at Grade II, but at the time of writing the listing record was not available on Heritage Gateway.
If you have a concern about this memorial please contact the Trust on conservation@warmemorials.org