Showcase result
Boxford
Town or City: Boxford
County: Suffolk
Country: England
WMT Reference Number: WM1313
Value of grant: £300.00
Type of memorial: Freestanding
Type of work: Conservation and repair
Grant scheme: English Heritage/Wolfson Foundation Grants
Year: 2004

UKNIWM reference number: 4391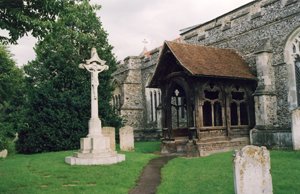 The war memorial in the village of Boxford, in southern Suffolk, is a Portland stone crucifix with a substantial gabled canopy over the figure of Christ. The crucifix rests on a plinth which stands on a cruciform base and two steps. Within a small recessed panel on the plinth is a carving of a soldier in World War I uniform. There is a quotation inscribed in the stone on either side of him. On the back of the plinth is another recess with a Gothic arch, but this one has no carving within it. The names of the fallen are commemorated on the front faces of the cruciform base; around the angled stone below this, and also along the riser of the top step, is inscribed text. The memorial stands in the churchyard of St Mary's and is Grade II listed.
In 20045 English Heritage and the Wolfson Foundation offered a grant of £300 towards work to re-point some of the joints and to clean the memorial with water and a specialist masonry biocide. This was because there was much algae on the memorial which, although not a major cause of stone deterioration, does have a negative visual impact.
The text around the cruciform base reads:
"In loving and
grateful
memory of
the men of this parish
who fell
in the
Great war
1914-1919
Also of
those who
fell in the second
great war
1939-1945"
Around the riser of the top step are the words:
"Grant them O Lord rest and peace and may light perpetual shine upon them"
The quotation inscribed on either side of the soldier is from John 15 v. 13:
"Greater love hath no man than this that a man lay down his life for his friends"
The memorial was unveiled on 2nd October 1919 by the Bishop of St Edmundsbury and Ipswich; there had been some debate whether to install the memorial in the Anglican churchyard, or in that of the United Reformed Church chapel in the village, as both congregations had lost men and there were strong feelings both ways.
Further information
War Memorials Trust reference WM1313
UK National Inventory of War Memorials: 4391
Heritage Gateway listing record: 491278
If you have a concern about this memorial please contact the Trust on conservation@warmemorials.org