Showcase result
Sherwood Blackwoods gateway
Town or City: Nottingham
County: Nottinghamshire
Country: England
WMT Reference Number: WM2011
Value of grant: £1194.50
Type of memorial: Freestanding
Type of work: Conservation and repair
Grant scheme: English Heritage/Wolfson Foundation Grants
Year: 2007

UKNIWM reference number: 59048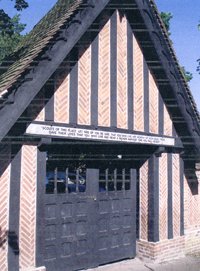 The memorial to the Scouts of Nottingham who fell in World War I takes the form of a memorial gateway to Blackwoods Scout site in the Sherwood area of the city. The gateway is constructed from red brick with herringbone details and timber inlay either side of wooden double doors. The roof has a steep pitch. There are flanking walls with herringbone brick pattern and tile coping. The gateway leads directly into the wooded Scout site which in its entirety was established as a memorial to those Scouts who died during the two world wars. There is a dedication on a tablet above the gates.
After an application in 2007/8 English Heritage and the Wolfson Foundation paid £1,195 towards work to replace tile battens, make good the soffits, replace missing or broken tiles as required, to make good the wing walls of the gateway, to replace defective bricks with new, to re-point where necessary, to treat the timbers infected with woodworm and to paint black all exposed timbers.
The dedication reads
Scouts of this place let this of you be said, that you who live are worthy of your dead. These
gave their lives that you who live may reap a richer harvest ere you fall asleep.
After the work to the gateway was completed, the gateway was officially opened by the Lord Mayor of Nottingham.
The memorial gateway was constructed in 1927 by Rover Scouts of the Nottingham Boy Scout Association to commemorate those Scouts who died in World War I. The memorial tablet was unveiled on 21st August 1927 by the Chief Rover Commissioner for England Mr. P.B. Nevill in the presence of the Duchess of Newcastle and the president of the Scouting Association Mr John C. Boot J.P. (of Boot's Chemists). Rev Geoffrey Gordon dedicated the memorial gateway. The Scout Association estimates that of the 250 000 Scouts who went to that war, 10 000 did not return. Fifteen were awarded the Victoria Cross.
Further information
War Memorials Trust reference WM2011
UK National Inventory of War Memorials: 59048
If you have a concern about this memorial please contact the Trust on conservation@warmemorials.org