Showcase result
Gilston
Town or City: Harlow
County: Essex
Country: England
WMT Reference Number: WM2081
Value of grant: £1670.00
Type of memorial: Freestanding
Type of work: Conservation and repair
Grant scheme: Small Grants Scheme
Year: 2008

UKNIWM reference number: 000000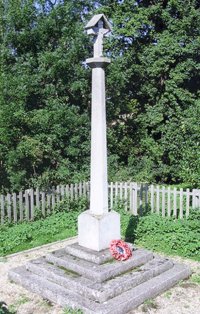 The memorial is a stone calvary on a square plinth with a four stepped base. It is inscribed with names from World Wars I and II. It stands at a junction in the village.
In 2007 War Memorials Trust offered a grant of £1,670 to re-point, repair and clean the memorial. The re-pointing was undertaken with sand and lime mortar while repairs included re-fixing the shifted steps by removing roots and replacing rusting fixings.
The memorial was built in January 1920 to remember the fallen of the Great War. After World War II two more names were added to the plinth; Jesse Robert French and Leslie Frank Croot: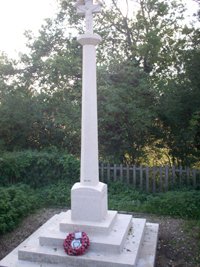 Sgt. Jesse French was a member of the Royal Air Force and was killed on 12th June 1944, aged 32. He is also commemorated at the Air Forces Memorial, Runnymede, Surrey, a memorial to airmen who were lost in the Second World War during operations from bases in the United Kingdom and North and Western Europe, and who have no known graves.
Pte. Leslie Croot was a member of the Bedfordshire and Hertfordshire Regiment and died age 21 on 9 September 1944. He was fighting in Italy, as part of the Allied campaign on the Italian mainland which started in September 1943 and saw German forces retreat through a series of defensive lines. Fighting at Coriano Ridge in September 1944 was heavy, and it was here that Pte. Coote was killed. He is buried at Coriano Ridge War Cemetery on Italy's Adriatic Coast.
Further information
War Memorials Trust reference WM2081
UK National Inventory of War Memorials: Unknown
Commonwealth War Graves Commission: Coriano Ridge Cemetery
If you have a concern about this memorial please contact the Trust on conservation@warmemorials.org