Showcase result
Shinfield
Town or City: Reading
County: Berkshire
Country: England
WMT Reference Number: WM155
Value of grant: £150.00
Type of memorial: Freestanding
Type of work: Relocation
Grant scheme: Small Grants Scheme
Year: 2000

UKNIWM reference number: 9092
The war memorial in the village of Shinfield near Reading in Berkshire is a stone Celtic cross, with the arms of the cross ending in the style of a cross fleury. It stands on a slim pillar on a double plinth and a two-stepped base. Names of the fallen of World War I and a dedication are inscribed on the higher plinth, a dedication and the names from World War II on the lower. It stands on a paved area on School Green in the centre of the village.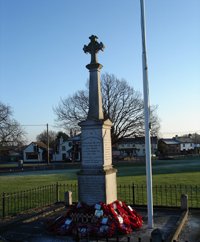 In October 2000 War Memorials Trust gave £150 towards work to relocate the memorial, renovate the stonework and lettering - including adding the names of the fallen of World War II to the memorial - to prepare a new base and surrounds and to re-erect the memorial with a flagpole in its new position.
The memorial had previously been located in Shinfield cemetery, detached from St Mary's Parish Church. The names of the fallen of World War II had been inscribed on a wedge shaped tablet in front of the memorial. However, by the end of the twentieth century the memorial was no longer visible because of incremental development and the overgrowth of trees. A committee was set up to organise the relocation of the memorial to a more prominent spot.
The relocated memorial was rededicated on 11th November 2000 by the Bishop of Reading. The service was accompanied by a band from 103 Battalion REME (V) who are garrisoned nearby at Arborfield.
Further information
War Memorials Trust reference WM155
UK National Inventory of War Memorials:
If you have a concern about this memorial please contact the Trust on conservation@warmemorials.org