Showcase result
Holy Island
Town or City: Holy Island
County: Northumberland
Country: England
WMT Reference Number: WM9987
Value of grant: £1470.00
Type of memorial: Freestanding
Type of work: Conservation and repair
Grant scheme: WMT Grant Scheme
Year: 2017

UKNIWM reference number: 33465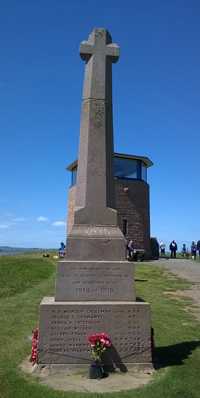 Holy Island war memorial is located at the Heugh, Holy Island, Northumberland. This memorial is a Doddington sandstone cross designed by Sir Edwin Lutyens and has a tapering shaft and short cross arms on a three stage base on a low circular step. The incised inscription on the lower base commemorates those who died in World War I and II. It is Grade II* listed and located with the Holy Island Conservation Area.

In 2017 a grant of £1,470 was awarded from War Memorials Trust Grants Scheme towards removal of corroding iron cramps and replacement with stainless steel, repointing in lime mortar, straightening of the misaligned cross and related professional fees.

This memorial was unveiled on 4th June 1922 by Major Morley Crossman DSO and dedicated by Rev W. B. Hall. It was carved by Mr Tully of Belford.

The great wave of memorial building after the First World War resulted in thousands of commemorative monuments being raised both at home and on the battlefield. Sir Edwin Landseer Lutyens OM RA (1869-1944) was probably the most outstanding designer to work in this field having designed the Cenotaph, London and Thiepval Arch, France and the Stone of Remembrance placed in all Imperial War Graves Commission cemeteries. Holy Island war memorial is one of 15 war crosses designed by Lutyens that share a broadly similar design. The earliest to be erected was at Miserden, Gloucestershire in 1920, and the latest was at Station Road, York in 1925.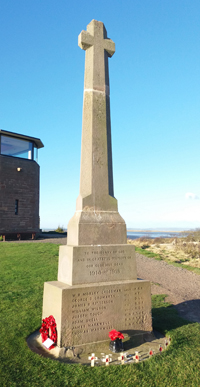 In 1902 Lutyens had been commissioned by Edward Hudson to convert the 16th Century Lindisfarne Castle into a residential property. It is assumed that the commission for the war memorial arose because of the work that Lutyens had undertaken for Hudson. Lutyens donated his services to the War Memorial Committee.
Further information
War Memorials Trust reference WM9987
UK National Inventory of War Memorials: 22465
War Memorials Online reference: 219134
If you have a concern about this memorial please contact the Trust on conservation@warmemorials.org