Showcase result
St Augustine's Church Calvary
Town or City: Scaynes Hill
County: Sussex (West)
Country: England
WMT Reference Number: WM9980
Value of grant: £5610.00
Type of memorial: Freestanding
Type of work: Conservation and repair
Grant scheme: WMT Grant Scheme
Year: 2017

UKNIWM reference number: 43040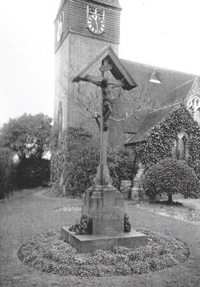 St Augustine's war memorial comprises a hooded Calvary constructed of oak including carved figure of Christ. The cross is made from Sussex oak set into a stepped, locally quarried sandstone base. The centre post is secured to the base by metal brackets and the roof is covered in lead. It is located in the garden at the front of St Augustine's Church. An inscription is incised into the stone base. The names of the fallen are inscribed on a separate stone tablet inside the church. The memorial is located in the grounds of St Augustine's Parish church in Scaynes Hill.
In 2017, War Memorials Trust Grants Scheme, supported by the First World War Memorials Programme, gave a grant of £5,610 towards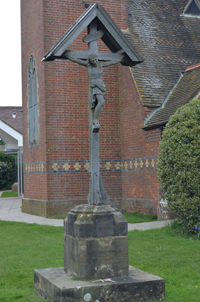 conservation works to the memorial. The sandstone base was cleaned using a combination of steam andnatural bristle brushes and water. The structural stability of the memorial was addressed securing steel bolts which had ceased functioning. Old cement repairs were carefully removed from the memorial and re-executed in a lime mortar. Construction joints were re-pointed using lime mortar. Rotted timber sections were carefully cut out and new timber was spliced in. The rotted hood of the memorial was repaired to match the original design, retaining original fabric wherever possible. The carved timber volutes to the base of the cross shaft were rotted and so were replaced to exactly match the original design.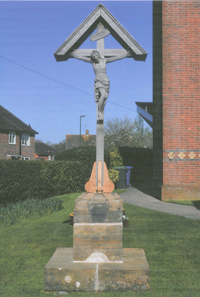 The war memorial was unveiled and dedicated on Sunday 27th June 1920. The Calvary was the work of Mr H M Pepper, an "Architectural and Ecclesiastical Carver", of Haywards Heath. Mr Pepper also designed the oak roll of honour inside the church which was dedicated the following year and gives the names of those who served in the First World War as well as those who died This elaborately carved wooden tablet was executed by Arthur Hope Rydon, a local landowner, benefactor of the church and gifted amateur wood carver. At the dedication service the Rev Willett said that the Calvary represented the sacrifice of Jesus Christ by whom we are redeemed and the sacrifice of those who had given their lives for their country. Both Mr Pepper and Mr Rydon, who had suffered a personal loss, were present at the dedication service.
The inscription reads: Who loved me and gave himself for me
Further information
War Memorials Trust reference WM9980
UK National Inventory of War Memorials: 43040
War Memorials Online: 234038
If you have a concern about this memorial please contact the Trust on conservation@warmemorials.org