Showcase result
Scriven
Town or City: Knaresborough
County: North Yorkshire
Country: England
WMT Reference Number: WM9757
Value of grant: £1210.00
Type of memorial: Freestanding
Type of work: Conservation and repair
Grant scheme: WMT Grant Scheme
Year: 2016

UKNIWM reference number: Not found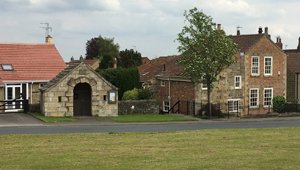 Scriven war memorial is next to the Village Green on Market Flat Lane in Scriven, North Yorkshire. The memorial is a stone shelter built in 1953 containing a stone plaque inside. The incised inscription on the plaque is painted black and commemorates those who died in World Wars I and II.
In 2016 a grant of £1,210 was offered through War Memorials Trust Grants Scheme towards re-roofing the slate roof of the shelter and the application of SmartWater on the metal railings at the entrance as part of the In Memoriam 2014 campaign.
The memorial was built by the Slingsby estate stone mason Arthur Atkinson using stone salvaged from Scriven Hall which was severely damaged by fire and subsequently demolished in 1952. The Hall was unoccupied in 1939 so the authorities requisitioned it for military use. The Ministry of Works were refurbishing the Hall to hand it back to the Slingsby family when the west wing was destroyed by fire. The memorial was unveiled on 2nd June 1953 by Major Thomas Slingsby to mark the coronation of Queen Elizabeth II. The memorial commemorates among others Midshipman John Slingsby RN who died aged 17 in 1915 and was the youngest brother of Major Thomas Slingsby.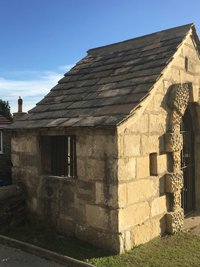 Further information
War Memorials Trust reference WM9757
UK National Inventory of War Memorials: 000000
War Memorials Online: 223734
If you have a concern about this memorial please contact the Trust on conservation@warmemorials.org