Showcase result
Men of Ilford Town
Town or City: Ilford
County: Greater London
Country: England
WMT Reference Number: WM6755
Value of grant: £
Type of memorial: Freestanding
Type of work: Conservation and repair
Grant scheme: English Heritage/Wolfson Foundation Grants
Year: 2014

UKNIWM reference number: 2067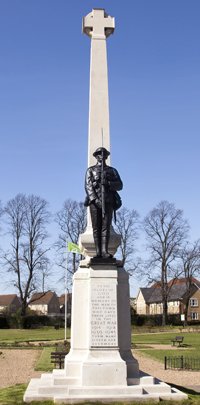 Men of Ilford Town war memorial consists of a square limestone obelisk surmounted by a Celtic cross on a tall limestone plinth raised on three steps. On the south side of the memorial there is a bronze life-size figure of a soldier who is in full uniform and holding a rifle up to the present arms position. The memorial commemorates those that fought in the First and Second World Wars with a commemorative inscription carved and painted black on the plinth underneath the bronze soldier. The Men of Ilford Town war memorial is situated within Ilford War Memorial Gardens on Eastern Avenue, Newbury Park in Ilford.
In 2014 a grant of £3,160 was offered through the Grants for Places of Worship scheme towards cleaning and re-pointing the memorial. The stone and bronze were cleaned using low pressure steam cleaning and bronze stains on the stone were removed using an activated sepiolite clay poultice with ammonia bi-carbonate reagent.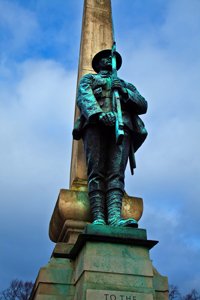 Joints were re-pointed using a lime based mortar and tinted wax was applied to the bronze figure.
The memorial was paid for by public subscription and unveiled on the 11th November 1922 by H.R.H. Princess Louise, Duchess of Argyll. It is believed that there was a referendum with the local people and donations were collected to fund a memorial garden, a monument and a memorial hall. The hall formed part of a Children's hospital ward adjacent to the memorial gardens. The bronze soldier was created by sculptor Newbury Trent (1885-1953) and an identical statue can be found at Bedwellty Park, Tredegar South Wales.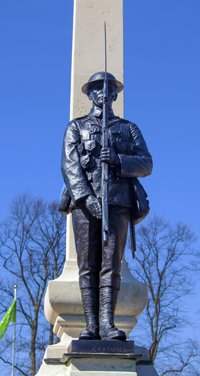 Further information
War Memorials Trust reference WM6755
UK National Inventory of War Memorials: 2067
War Memorials Online: www.warmemorialsonline.org.uk/node/120491
If you have a concern about this memorial please contact the Trust on conservation@warmemorials.org