Showcase result
Pathfinder Scouts window.
Town or City: Manchester
County: Greater Manchester
Country: England
WMT Reference Number: WM1662
Value of grant: £300.00
Type of memorial: Non-Freestanding
Type of work: Relocation
Grant scheme: Small Grants Scheme
Year: 2005

UKNIWM reference number: 18390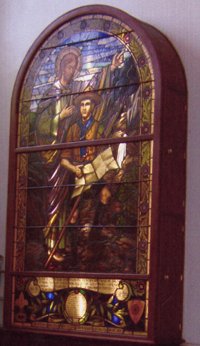 War Memorials Trust awarded £300 towards the cost of conservation works on a stained glass window. The memorial was in Wade Street Scout Hall in Manchester but has been moved to St Gabriel's, the local Parish Church. The memorial was originally unveiled on 29 November 1924by Scoutmaster John W. Healey. Names of fallen Scouts are recorded on the memorial and there is a dedication which reads "To the Glory of God and in loving memory of those of the 3rd Middleton Boy Scouts who fell in the Great Wars and as a thank-offering to God for those who returned". The inscription, names and dates of the two World Wars were added after the Second World War.
The memorial window replicates the painting 'The Pathfinder' of Ernest Carlos. The window shows a Scout being guided. The inscription reads I am the Way. A similar memorial window can be found in St Mary's at Roch in Pembrokeshire.
The conservation work required on the memorial included the removal of the memorial from its original site, its cleaning and the installation of a new frame to hold the memorial. This included the facility to back light the memorial as it is on displayed within the Church as opposed to as a window.

Further information
War Memorials Trust reference WM1662
UK National Inventory of War Memorials: 18390
If you have a concern about this memorial please contact the Trust on conservation@warmemorials.org