Showcase result
Bridge of Weir
Town or City: Bridge of Weir
County: Renfrewshire
Country: Scotland
WMT Reference Number: WM5728
Value of grant: £7461.00
Type of memorial: Freestanding
Type of work: Conservation and repair
Grant scheme: Centenary Memorials Restoration Fund
Year: 2014

UKNIWM reference number: 57779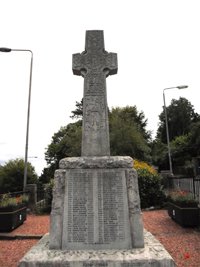 The memorial consists of a Celtic cross with decorative carvings of knotwork and Celtic hunting scenes on the arms and shaft. The Celtic cross surmounts tapered plinth raised on a single step. The memorial is located at the road junction of Kilbrachan Road and Bridge of Weir Road, within a triangular piece of ground which is enclosed by a low level stone wall with iron railings.
In 2014 War Memorials Trust offered a £7,461 for repair and conservation work. The build-up of dirt and algae on the memorial along with flaking paint on the inscription meant that the inscriptions were difficult to read. In addition the memorial's boundary wall had a number of badly eroded stones and the ironwork railing corroding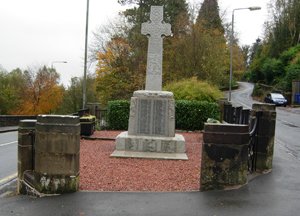 due to flanking paint. To address these issues works were undertaken to replace defective stones, while the ironwork was cleaned and re-painted. The boundary wall was also re-pointed with a lime based mortar. Work to the memorial included cleaning with DOFF followed by the re-painting of the lead lettered inscription.
Following the construction of the war memorial a dedication took place on 26th June 1920 by Lieutenant General Sir Frances Davis K.C.B – K.C.M.G – K.C.V.O-G.C.o in C. Scottish Command. Also present was a guard of honour, buglers and pipers of the 6th Battalion of Argyle and Sunderland Highlanders.
The inscription on the memorial plinth reads:
In loving memory
of the young men of
Bridge of Weir
who made the supreme sacrifice
in the Great Wars
1914-18 – 1939-45
Erected by the inhabitants
They whom this monument
commemorates were numbered
among those who at the call
of King and County left all that
was dear to them endured
hardness, face danger, and
finally passed out of the
sight of men by the path of duty
and self sacrifice, giving up
their own lives that others
might live in freedom.
Let those who come after see to it
that their name be not forgotten.
They were men in the might of their manhood
or boys in the beauty of young.
But they held all as dust in the balance
to battle for freedom and truth
Further information
War Memorials Trust reference WM5728
UK National Inventory of War Memorials: 57779
War Memorials Online: 146633
If you have a concern about this memorial please contact the Trust on conservation@warmemorials.org