Formerly involved
Many people have contributed over the years to making War Memorials Trust a success. On this page we highlight some of those who made a significant difference to the charity.
Patrons
The Trust's Patron from 1997 to 2007 was The Countess Mountbatten of Burma. Her support in the early days of the charity was vital in helping it establish itself as a focal point for war memorial issues.
Vice Patrons
The Lord Molyneaux of Kilead KBE PC 1999-2014
Major General The Reverend Morgan Llewellyn CB OBE 2001-2014
The Earl Nelson 1999-2009
Sir Brian Kenny 1999-2007
Lt General Sir Norman Arthur KCB JP 1999-2004
President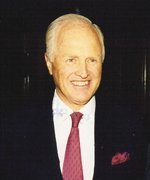 On 2nd March 2010, War Memorials Trust lost its President and Trustee Winston S Churchill who passed away. Instrumental in the early days of the charity, Mr Churchill's contribution was vital to the Trust becoming the focal point for war memorial conservation.
We greatly miss his leadership and support but will strive to fulfill the ambition he shared with so many others to protect and conserve the nation's war memorials.
Vice Presidents
Josephina de Vasconcellos 1997-2005
Spike Milligan 1997-2002
Founder
On 6th August 2012 the Trust's recognised Founder Ian Davidson passed away. Mr Davidson, a former Royal Marine, campaigned vigorously throughout the 1990's for better care to be taken of the nation's war memorial heritage. His appearance on the Jimmy Young BBC Radio 2 show on 29th October 1996 gave him the opportunity to promote his desire to preserve war memorials. He was also heavily involved in a campaign to restore the Aldershot memorial to its full glory after vandals had damaged it.

As Winston S Churchill has described "in the Spring of 1997, a buzz went round the Smoking Room and Tea Rooms of the House of Commons that an ex-Royal Marine, by the name of Ian Davidson, was coming to one of the Committee Rooms to report on the 'scandal' of Britain's war memorials." This meeting was one of many that saw Mr Davidson's idea develop into a fully fledged charity that was registered on 7th May 1997. Mr Davidson was recognised as the Founder with others also taking on positions of responsibility.

Mr Davidson spent the next few years with the charity acting as a freelance campaigner on war memorial issues. He travelled the country visiting war memorials and drawing attention to those in a poor state of repair. In 2000 he and the charity parted company with Mr Davidson moving on to be involved with Friends of the Laurel and Exercise Tiger.