Events 2008
War Memorials Trust held or attended a number of events in 2008. Details can be found below:
Sunday 9th November 2008 Remembrance service, Cambrisgeshire
The Trust was represented at the Remembrance Sunday event at Imperial War Museun Duxford by volunteers from Cambridge. Located in the AirSpace Hangar the stall was visited by many people who took leaflets and Bulletins as well as purchasing Trust merchandise.
Saturday 8th November Tankfest, Dorset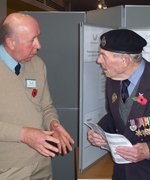 The Trust was represented at an event commemorating the Great War in the South by Trustee David Seymour and Dorset Regional Volunteers. The event took place at Bovington Tank Museum which gave visitors a chance to see some of the recent work that had taken place at the museum. The day was part of the BBC's Great War series commemorating the 90th anniversary of the end of World War I with BBC South heavily involved. Around 3,000 visited the Museum on the day and many stopped to find out mroe about the Trust.
The Trust was also at the Bovington Garrison Remembrance Service on Remembrance Weekend.
Monday 7th July AGM, London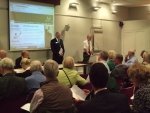 On Monday 7th July War Memorials Trust members joined staff and Trustees at the Imperial War Museum to participate in the charity's AGM. The meeting heard reports from Chairman Algy Cluff and Treasurer Roger Bardell on the Trust's activities and financial performance over the previous year. Trust Manager Frances Moreton also gave a short presentation on the Trust's new website giving members a preview of the site. Following the presentations an interesting question and answer session took place covering issues such as education, conservation issues and grant policy. Following the Chairman's acknowledgement of the wonderful service given by The Countess Mountbatten of Burma during her time as Patron members supported an expression of thanks from the floor. Minutes of the meeting have been distributed to those who attended the meeting. Copies can also be obtained by members by contacting the office on 020 7259 0403 or info@warmemorials.org.